Bitcoin Technical Analysis Update: 14 June 2021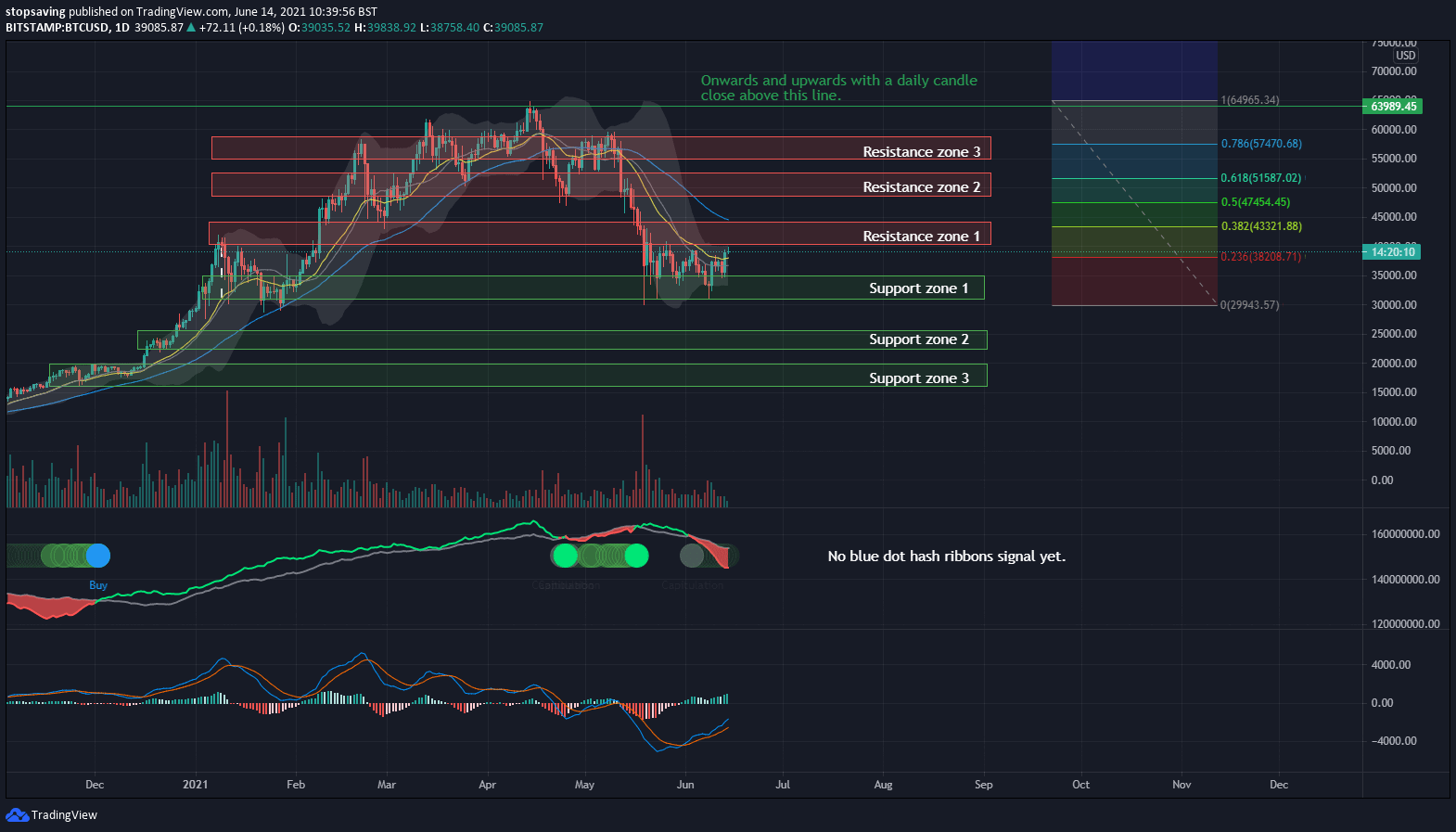 Bitcoin dropped down on Friday and Saturday, with most people fearing the usual 'bloody Sunday' once again. But instead of falling further, bitcoin put in a strong bounce around the $35K support area. Let's now look at the charts to see where we are and what could be next for bitcoin.
Bitcoin daily chart:
Below we have the bitcoin daily candle chart.
We have 3 major support zones. The support zones coincide with past support levels from before the correction.
We also have 3 major resistance zones. These are in line with prior resistance levels, but also coincide with key Fibonacci retracement areas as shown on the right-hand side of the chart.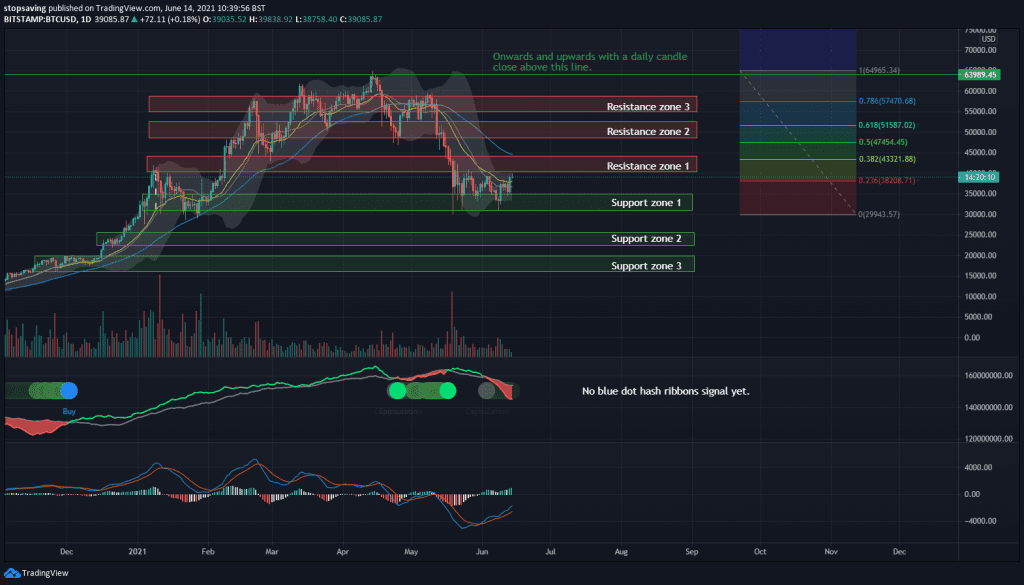 The MACD is showing increasing upside momentum on the daily chart, which is positive overall. However, although we had a strong bounce so far, bitcoin has started to slow down and has failed to break above 40K. We will cover this more below in the shorter-term time frame charts.
In order to get long-term bullish on this daily chart, I would like to see a blue hash ribbons dot. Before we can get this, we first need a green dot to show us that miners have stopped capitulating. This could take time.
Note: read this blog to understand how the hash ribbons indicator works.
I would also like to see a bullish cross of the yellow 21-day EMA with the 50-day MA. In the past, this has signaled major long-term rallies for bitcoin. As we can see, the lines are quite far away right now. So, the best scenario for the long-term bulls is a slow consolidation, giving these lines time to cross gradually.
As of right now, there is not much to tell us that bitcoin has put in a major bottom here. With that said, bitcoin can easily rally to 45-50K and still be in a downtrend/range.
The longer-term direction remains uncertain for bitcoin, but there is ample opportunity for range traders who can manage risk.
Bitcoin 4-hour chart:
Zooming into the 4-hour time frame, we can see more information about current price action. We can see that bitcoin has clearly broken out of its downward trendline and lower low pattern.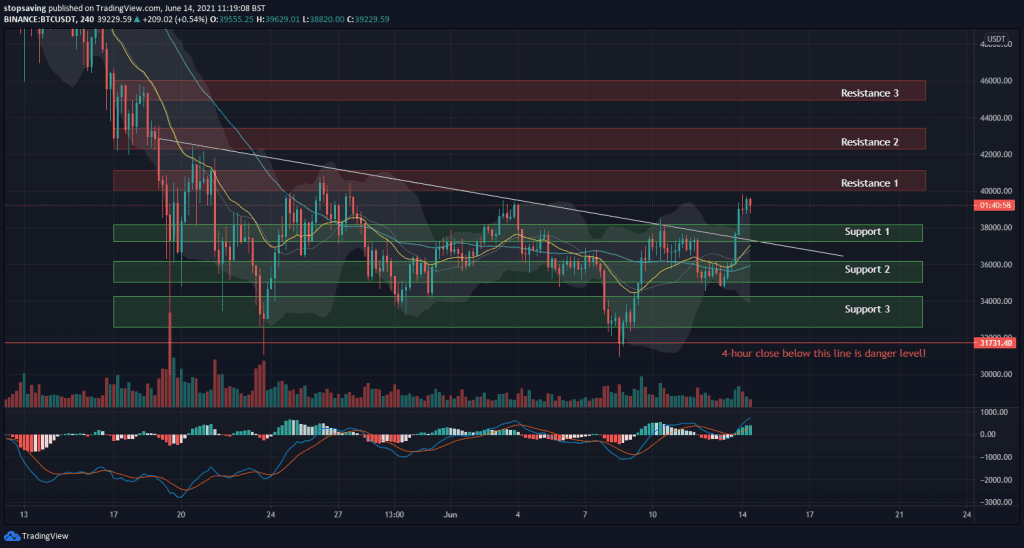 As of writing, the 4-hour candle has been closing above the Bollinger Bands, which suggests a trending move is in progress on this time frame. However, if bitcoin were to close inside of the band, then I would look for a move to support zone 1 (at least), which roughly coincides with the upper trendline retest.
If we break below that, then support zone 2 offers strong support. If we get to support zone 3, that would be less likely to hold in my opinion, but it is still support nonetheless.
The MACD is also currently showing strong positive momentum on the 4-hour time frame. If this starts to wane (with white bars), I would expect us to at least get to support zone 1. If we close a 4-hour below the $31,700, we are in serious bear market mode.
Conclusion
Overall, bitcoin is still ranging, with no clear trend in either direction. However, there is ample volatility for traders who manage risk. And for long-term DCA investors, bitcoin is way cheaper than it was 3 months ago.
Disclaimer: This is not investment advice, it is just my opinion on the bitcoin chart right now. I can and will be wrong because markets are not predicatble. My opinion can and will change depending on what the chart does next.