Bitcoin Technical Analysis: 16 June 2021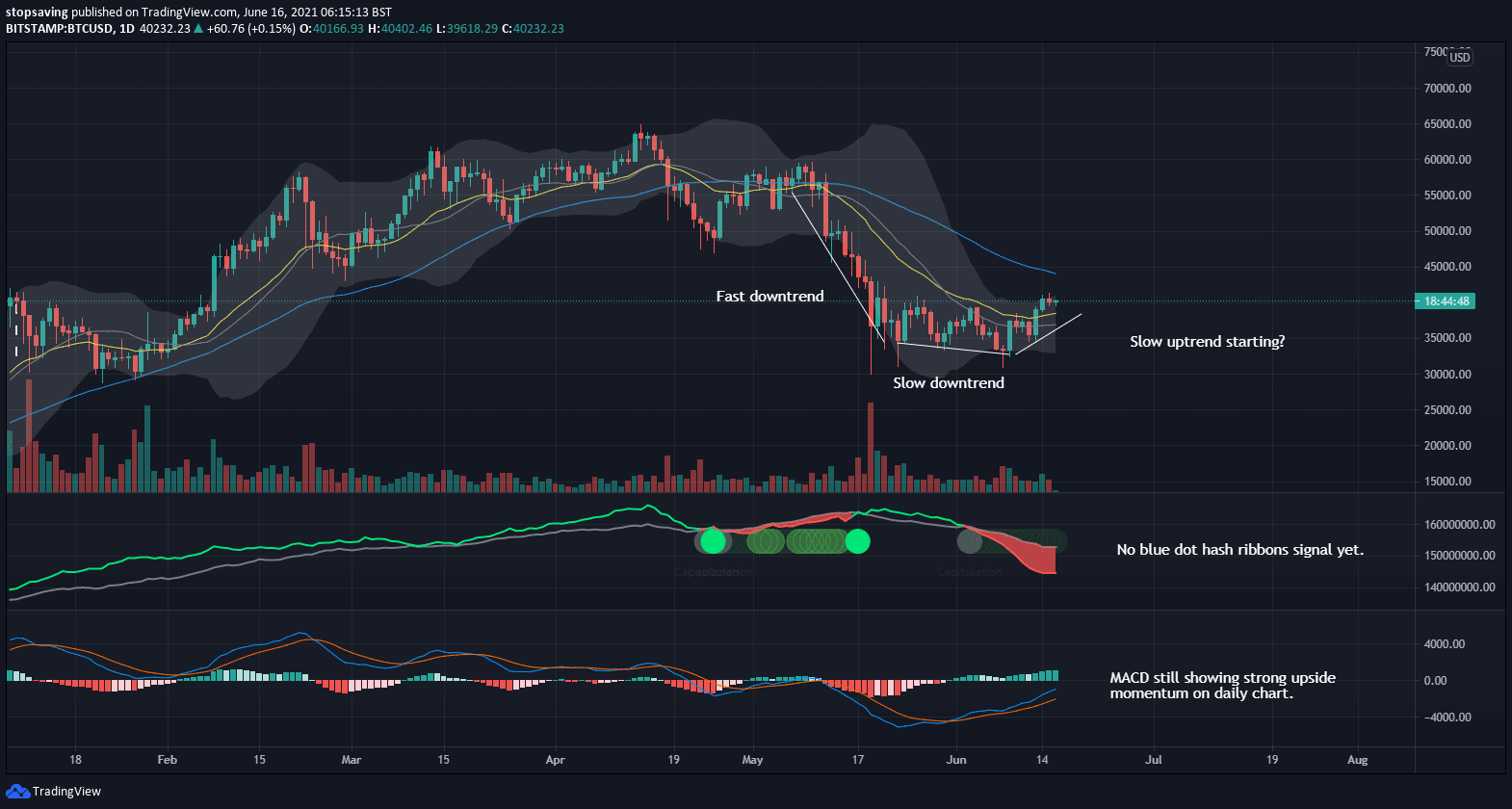 Since Tuesday 8 June 2021, bitcoin rallied about 33%. It went sideways yesterday and is now testing the $40-$42K resistance box on the 4-hour chart that we outlined on 14 June. For the past two days, it has been hovering in this range.
Yesterday, there was a strong breakout attempt out of this $40-42K resistance zone, but it was quickly rejected. A break of this area in either direction will signal the next move.
Bitcoin 4-hour chart:
We can see from the above chart that bitcoin is trying to break 'resistance zone 1' on the 4-hour time frame. If we get a wick above $41,400, I would say this range is resolved. This would likely result in a move up to resistance zone 2. Alternatively, a 4-hour candle close above about $40,800 would signal to me that we are likely to continue higher from here.
On the flip side, a break below about $39,400 would suggest that we retest support zone 1 between about $36,500 and $38,000. There is strong support in this area and this would give us a higher low. It would also line up well with a restest of the diagonal trendline we broke on 13 June. If we get to and can hold support zone 1, this would be very good for the bulls.
Failing that, we have support zones 2 and 3. But as a trader, I would personally be more cautious trying to catch falling knives in these areas.
Per the chart above, the MACD is starting to cross down. This suggests the uptrend is losing momentum for now on the 4-hour time frame. Let's see how this developes.
The price is also currently closer to the top of the Bollinger Band range than the bottom. The Bollinger bands also look to be contracting in volatility with the recent sideways price action. To me, this suggests a move near support zone 1 is more probable for now. I would change this view if we get above $41,400 on a wick, or a 4-hour candle close above $40,800.
Bitcoin daily-chart:
The daily chart looks good from a bullish perspective. We can see above how the downtrend was fast at first. It then slowed down. Now, we look to be tentatively forming a new uptrend. We now have a 'higher high' and a 'higher low' on the daily chart. Interestingly, the right upward trendline lines up with a potential retest of support zone 1 on the 4-hour chart we discussed earlier.
If this holds, I would be confident of further upside in the short and medium-term. However, we would by no means be out of the woods as there is major resistance above. The 0.382, 0.5, 0.618 and 0.786 Fibonacci retracement levels are at around $43,000, $47,000, $51,000 and $57,000 respectively. These are all fair game for a bull trap. With that said, they are also nice trading targets if we do go up from here.
We get these Fib levels by drawing a retracement from the ~$65K high down to the ~$30K low:
Conclusion:
Overall the bitcoin chart looks a lot healthier than it did a few weeks ago. But it is very important how we react from here. For now, I am personally bullish (at least for a swing trade) so long as we remain above $36,000. However, I still do not see enough evidence in the chart to confirm that the ultimate bottom is in.
Sign up for our newsletter at the footer of this page if you would like to get these updates as they come out!
Disclaimer: This is not investment advice, it is just my opinion on the bitcoin chart right now. I can and will be wrong because markets are not predicatble. My opinion can and will change depending on what the chart does next.