Bitcoin Technical Analysis 17 June 2021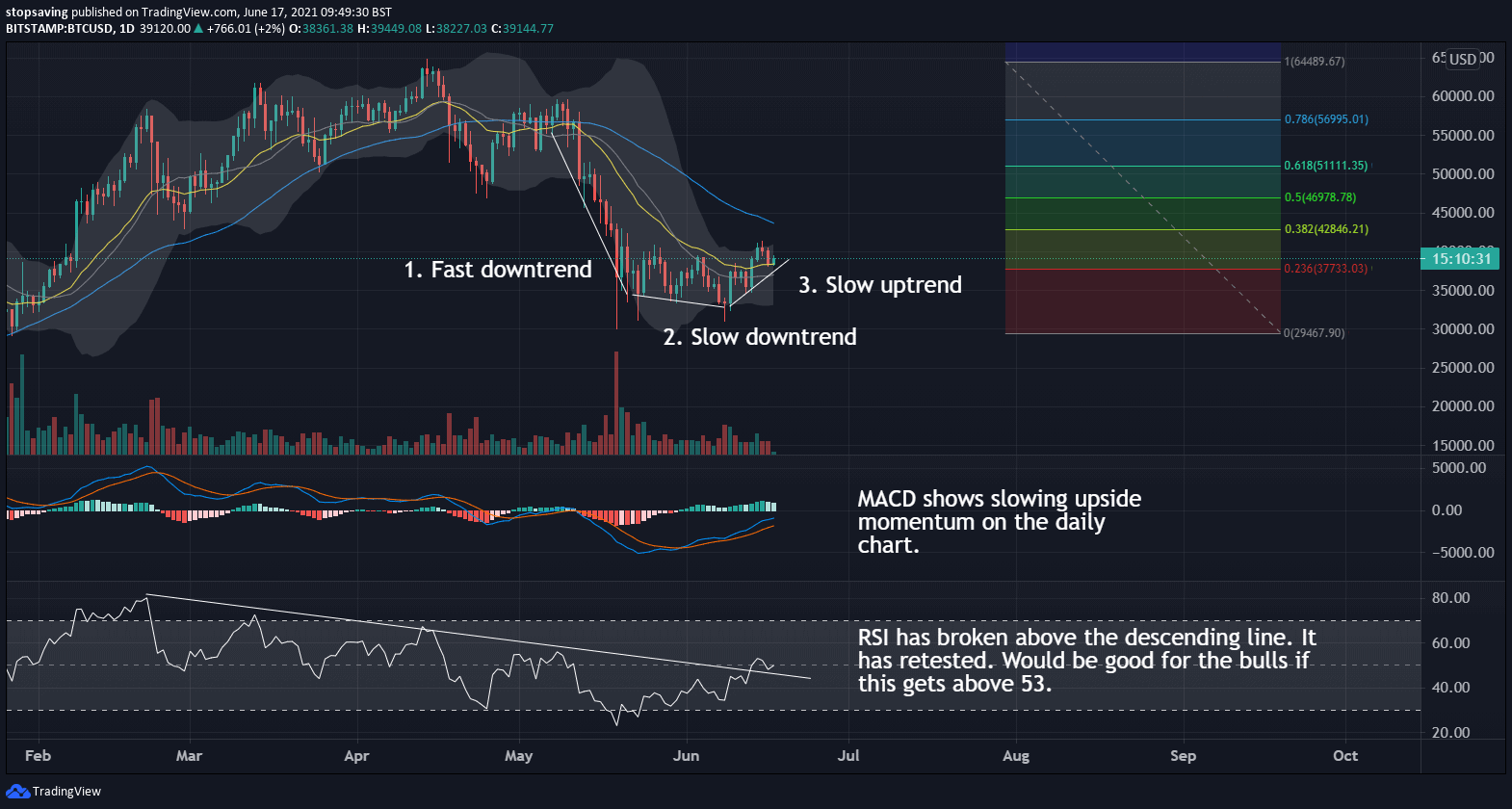 Bitcoin has rejected the first resistance zone we outlined in yesterday's update, between $40 and $42K. Once it dropped out of this price range, it fell to about $38,100. Since then the bitcoin price has bounced to around $39,300.
Let's now dive deeper into the charts to see what could potentially be next for bitcoin.
Bitcoin 4-hour chart:
Per the above chart, we saw a breakdown out of resistance zone 1 as we hypothesized yesterday. However, we have not yet got down to support zone 1.
Here are a few reasons that lead me to believe we will now restest resistance zone 1 before we test support zone 1:
We had a strong 4-hour engulfing reversal candle at the bottom of the 4-hour Bollinger band.
The MACD is losing bearish momentum (as shown by the white bars on the histogram), signalling that the bulls are regaining control.
The 9 AM UK time 4-hour candle has just closed above the 21 exponential moving average (EMA).
This candle has also closed above $39,000, which is above the previous 3 downward candles.
We may come down in the very short term from this region. And this would be healthy for the bulls as it would provide a better base from which to ascend.
If we wick below $38,000 or close a 4-hour candle below $38,300, then I would expect a more sustained downside move. But we can reassess if and when that happens.
Bitcoin 1-day chart:
Despite yesterday's drop, not much has changed for bitcoin on the 1-day chart. We still look relatively bullish so long as we maintain the higher low structure.
The relative strength index (RSI) has also broken above a major descending trendline. If it can remain above this line, this would provide further confirmation of the uptrend.
Another positive for the bulls is that the bitcoin price is holding the 21-day exponential moving average (yellow line in the above chart) as support. It can wick below this intra-day, but so long as it is closing above this line I would remain bullish. On the flip side, if we close the day below the 21 EMA, then further downside becomes much more likely!
With that being said, the MACD has started to slow down. This is of course expected given yesterday's drop and the fact that the MACD is a lagging momentum indicator.
If bitcoin can get back above the last daily high at about $41,400, then that would be a confirmed break of the range and a new higher high. We would then look to the Fibonacci levels we outlined on the chart as potential upside price targets.
Conclusion:
So long as we can hold the current higher low structure on the daily chart, things are looking good for the bulls in the short to medium term. For now, bitcoin has big ranges and this is a trader's market.
Sign up for our newsletter at the footer of this page if you would like to get these updates as they come out, or follow me on Twitter.
Disclaimer: This is not investment advice, it is just my opinion on the bitcoin chart right now. I can and will be wrong because markets are not predicatble. My opinion can and will change depending on what the chart does next.