Bitcoin Dominance Is Losing Steam. Altseason Coming?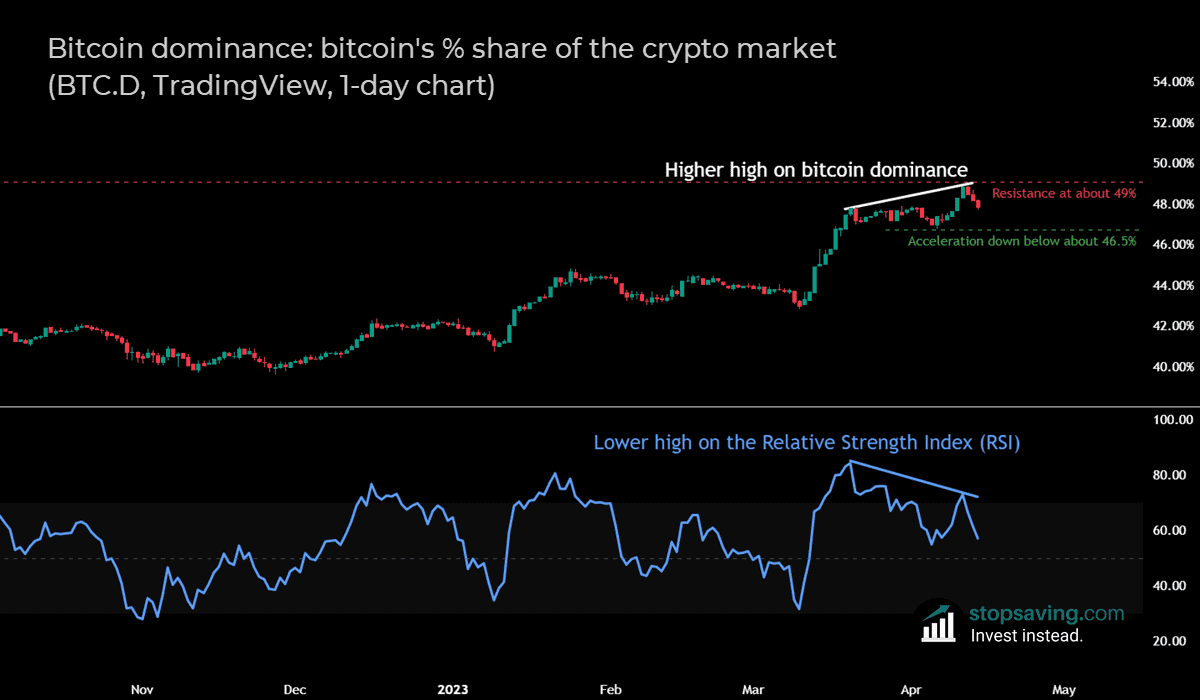 Bitcoin's reigned supreme this year and almost doubled in value since its November low. For the most part, it's outpaced the rest of the crypto market – with altcoins generally lagging behind. But this bitcoin dominance chart suggests that could be changing. Is the king finally stepping back to let the knights and nobles catch up? 
The chart shows bitcoin's value as a percentage of the total crypto market – a.k.a. Bitcoin dominance (BTC.D). When it's on the rise, it means bitcoin is gaining market share, and generally doing better than most altcoins. And when it's falling, it's the opposite: bitcoin is losing value relative to the rest of the market. So if you're hoping for a big altcoin rally (altseason), you'll want to see BTC.D go down. And two things in this chart suggest it might be about to. 
1. Bitcoin dominance has (so far) been rejected at major resistance.
BTC.D has been shot down around the 48-49% resistance level – the same area it was shot down in July 2021 and June 2022. Of course, the more times something knocks on the door (resistance), the more chance it will eventually get let in (break above resistance). But as of right now, that door is still shut, and BTC.D has been rejected lower.
2. There's bearish divergence in play.
There's a bearish divergence between bitcoin dominance and the Relative Strength Index (RSI). While BTC.D made a higher high (white line), the RSI made a lower high (blue line). Here, we work out the RSI using the average gains of up days over the average losses of down days for the past 14 days. And when the average losses start to get bigger than the average gains, the RSI goes down. In other words, the uptrend could be running out of steam. 
So what could happen next in the crypto market?
Ethereum has shown a lot of strength since the Shanghai upgrade on Wednesday, April,12: it's already up 10% since then. And just like gold, it's now cleared the all-important $2,000 level. Bitcoin, meanwhile, is up "only" 4% over the same period. Typically, when ether starts to show strength against bitcoin, we move into phase two of the crypto market cycle. I wrote all about how that works here. 
Of course, if bitcoin decides to show its wrath with another massive move (up or down), you'll probably see bitcoin dominance break into the 50s. But if you're looking for value in a speculative market, altcoins seem like a decent contrarian bet.
Sign up for our newsletter if you would like to learn more about bitcoin and crypto, or checkout my book below.