They Don't Call Them Growth Stocks For Nothing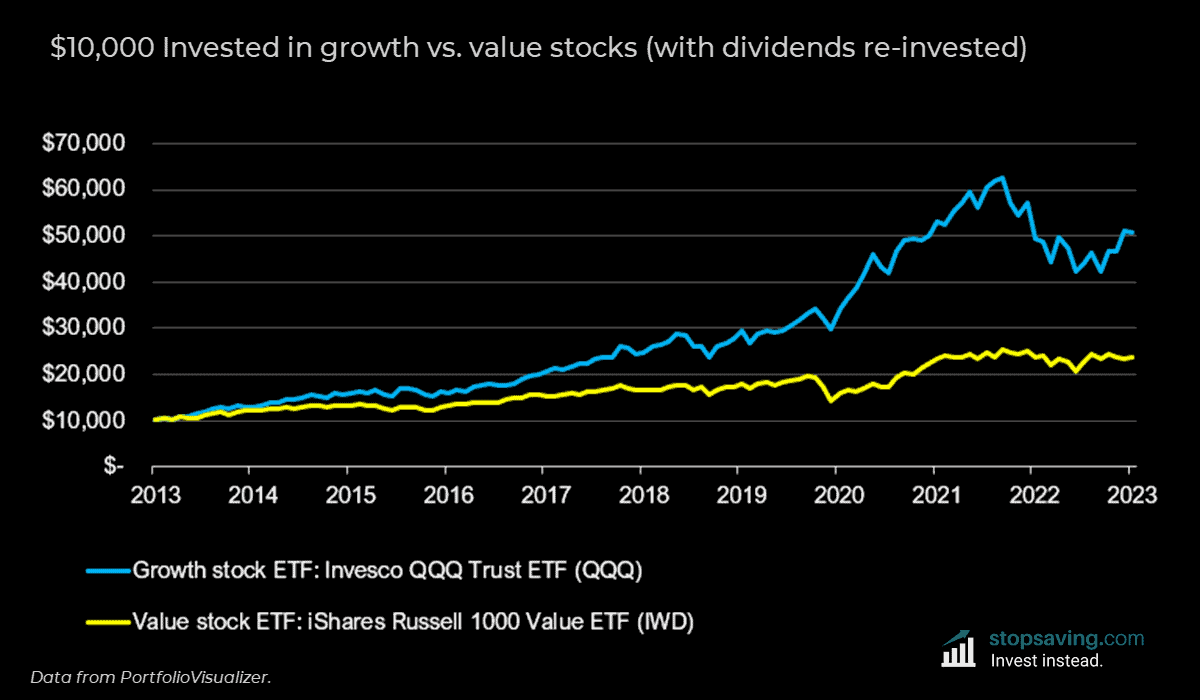 If you'd invested $10,000 in the Invesco QQQ Trust ETF (QQQ, blue) ten years ago, you'd be sitting on just over $50,000 right now. QQQ tracks the Nasdaq 100 index, which currently has almost 50% in the high-growth US tech sector. But if you'd put that money in the iShares Russell 1000 Value ETF (IWD, yellow), you'd only have about half that. So over the past decade, value stocks have generally taken a back seat to growth stocks.
Value stocks tend to pay higher dividends than growth stocks, though. In the case of IWD, its dividend yield is now around 2.2% per year, while QQQ's is closer to 0.7%. But this chart already factors that in – it assumes you re-invested those dividends back into each ETF. So factoring that over the past ten years (since March 2013), your QQQ investment would've grown by 17.5% a year, which is great. But your IWD value investment would've only grown by 9% a year, which is just "good". 
Still, value stocks would have kept your losses down during last year's bloodbath compared to growth stocks. With IWD, you'd have only lost 7.7%. But with QQQ, 2022 would have seen your wealth decimated by 32.6%. But as any seasoned investor will tell you: you can't have great returns without the occasional bad year.