Is The Nasdaq's "Dip" Already Over?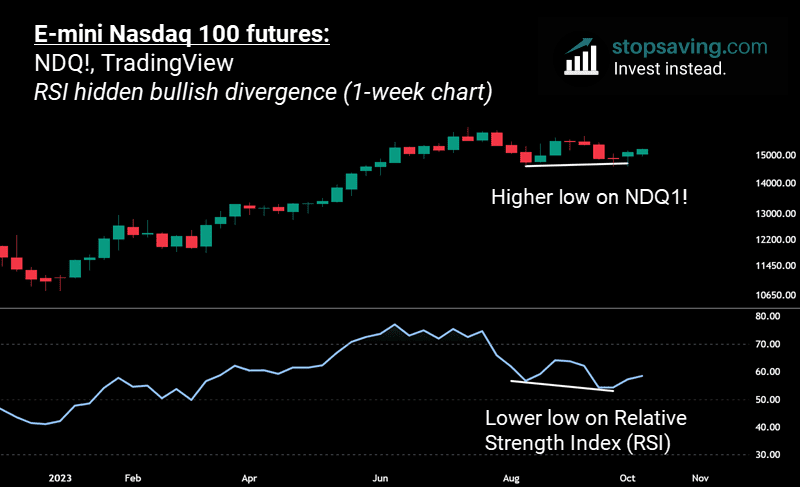 The Nasdaq 100 index (which mostly tracks US tech stocks) rallied an impressive 50% in the first half of this year. But it's been losing points in the second half – and is down about 5% since its peak in July. This recent "dip" has had the gloom and doom brigade shouting for much lower prices in the US tech sector. Sure, there are economic issues afoot that could make that happen. But this chart suggests the dip might already be over.
What's the chart saying?
The red and green bars in the chart show the weekly price movement of the E-mini Nasdaq 100 futures index (or NDQ1!). NDQ! is heavily traded on the Chicago Mercantile Exchange (CME). As it's a "futures" product, it lets traders bet on the future price of the actual Nasdaq 100 index (NDQ).
NDQ1! is open for trading pretty much around the clock – even when US stock markets are closed. It's also the go-to index for big institutional traders to take leveraged bets on the direction of US tech stocks. 
You'll notice NDQ1! made a slightly higher low in September than in August – at least based on where it ended the trading week. Meanwhile, the Relative Strength Index (RSI, blue line) made a lower low. We call this a "hidden" bullish divergence. In technical trading, it can be a signal to buy the dip in a general uptrend.
What's RSI hidden bullish divergence?
The RSI measures the relative strength of buy pressure (closer to 100) vs. sell pressure (closer to 0). When it moves closer to 0, it suggests sell pressure is getting heavier relative to buy pressure. Normally when that happens, you'd expect the price to go lower too. Except this time, it did not.
Despite all that sell pressure, NDQ1! still made a higher low. 
What about the actual Nasdaq 100 index?
If you're looking for a more bearish argument, the Nasdaq 100 index (which only trades when US stock markets are open) doesn't have this same hidden bullish divergence. That's because unlike NDQ1!, it made a slightly lower low in September than in August. 
While the futures price can often "lead" the actual price, it's not a hard and fast rule.  
As always, none of this is investment advice. It's just my analysis of one indicator on a price chart.