Gold Price Analysis: Bear Trap In The Making?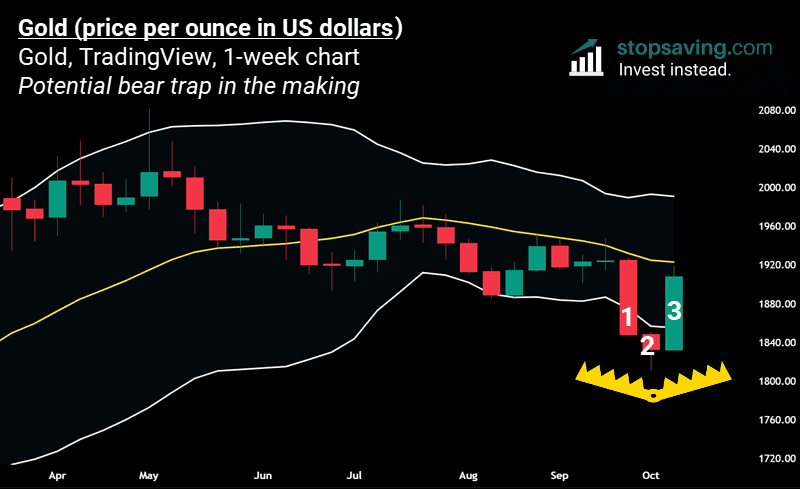 Gold bugs haven't had much to celebrate this summer, with the gold price slowly bleeding out since May. But this week has (so far) seen gold up about 4%. Most of this rally happened after US inflation numbers came out Wednesday. At 3.7%, the consumer price index (CPI) number was slightly hotter than the 3.6% analysts expected. And there could now be a classic gold "bear trap" in the making. 
What's a bear trap?
A bear trap is exactly what it sounds like: a trap for the "bears" (i.e. sellers and shorters). This involves the price breaking below a key level to get everyone bearish – so they sell the investment or go short. But then, the price goes higher instead, trapping the bears into losing positions. This puts the buyers back in control, and the bears on the back foot.
This seems to be playing out in 3 stages, according to the above chart, where each red or green bar represents 1 week of price movement for gold. 
Stage 1 (last week of September, candle 1). The price closed far below the bottom Bollinger Band. This doesn't happen all that often. So when it does, it's considered an extreme move. And in this case, that move was down. Investors sold their gold, hoping to buy back lower. And traders went short, looking to profit from even lower prices. 
Stage 2 (last week, candle 2). Last week the gold price did go lower – but nowhere near as much as in stage 1. This time, the entire weekly candle was below the bottom Bollinger Band. That's extremely rare – the last time this happened for gold was in July 2015, which was pretty much around the last bear market low. It suggests the price was extremely oversold. Think of it as peak fear. 
Stage 3 (this week, candle 3). This week the gold price ripped higher. Many traders who were short gold have now had to close their positions. The only way to close a gold short position is to buy back gold. So this would have added fuel to the fire. And no doubt, investors who sold their gold lower are now looking to buy back in.
So what could be next for the gold price?
If gold ends the week looking this strong, it would look like a classic bear trap to me. The next stage would be to clear above the middle Bollinger band (yellow). Just keep in mind that the week isn't over just yet. But so far, so good… 
If you want to learn more about bear traps and Bollinger Bands, check out my course below: