10 Famous Investment Quotes You Should Live By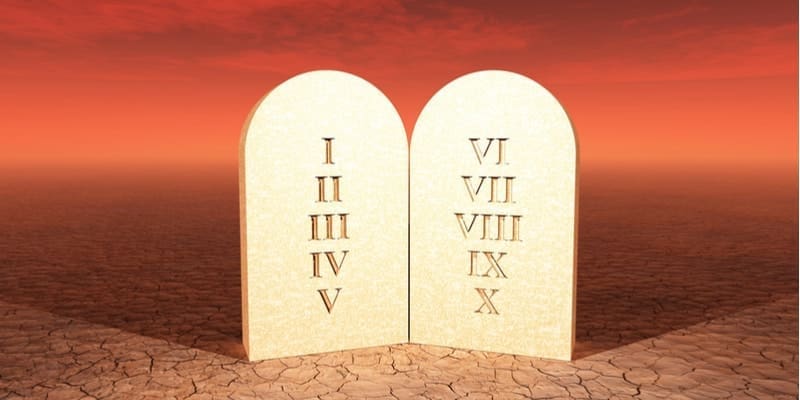 I've put together 10 of my favourite investment quotes. They are in no particular order.
Quote 1. Christopher Browne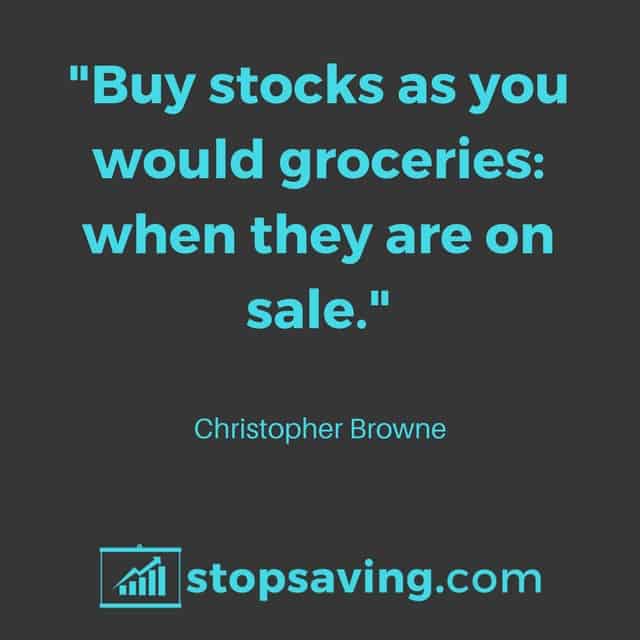 Finding bargain investments is usually what separates great investors from the herd. Look for companies with solid track records whose shares are selling at a discount to what they are really worth. Buy shares in those companies.
There are a number of easy methods to identify companies with hidden value. One of them is the company's Price-to-Earnings (P/E) ratio. The P/E ratio is simply the current price of a share divided by the annual earnings of a company. If a company's P/E ratio is low then its shares could be on sale!
Assuming the company is likely to be profitable in the future, then it's good value to buy those shares.
Quote 2. Albert Einstein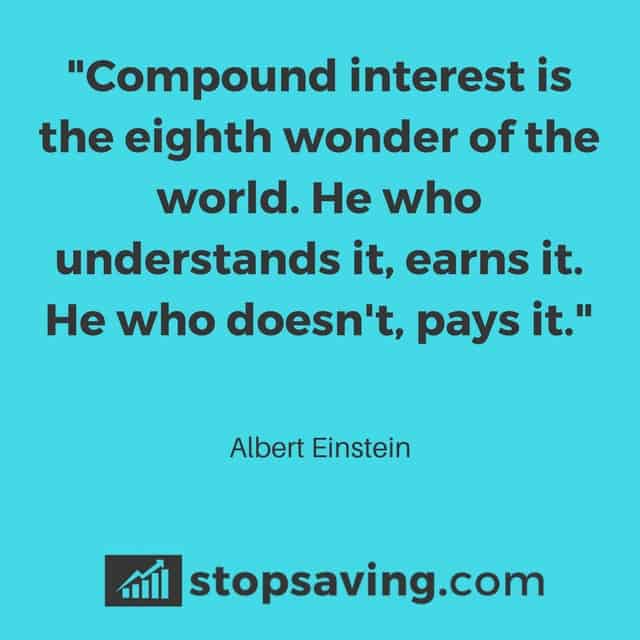 Have you ever been drowning in overdraft, credit card debt or both? If you have then you'll know what Einstein was talking about!
Averaging between 5% and 10% return per year on your investment portfolio will seriously grow your wealth over the next 20 to 30 years. This is down to basic maths. The same percentage of a larger number creates a bigger number. The same percentage of that bigger number then creates an even bigger number, and so on.
The key is to take a long-term view. Your wealth will grow faster with time provided you earn a positive average return on your investments.
Quote 3. Warren Buffett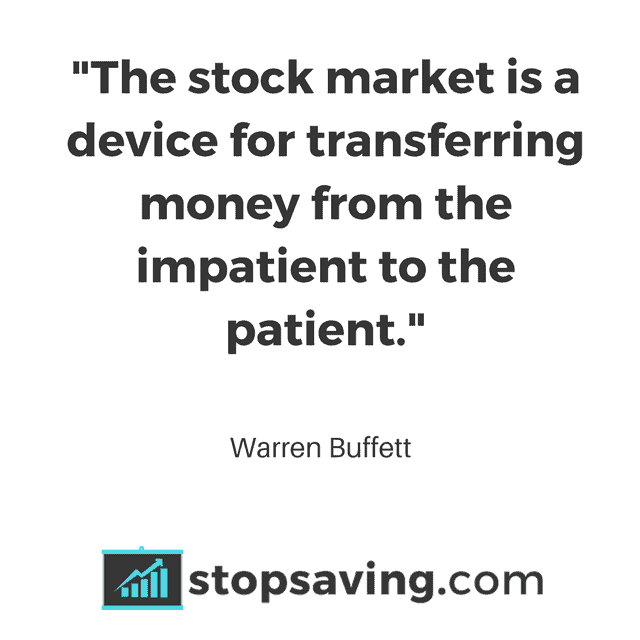 Don't waste your time on 'day trading'. It's super risky and most of the time it doesn't work, unless you spend a serious amount of time learning how to master it.
Rather invest in quality stocks or funds over the long-term. Be patient with your investments and you'll reap the rewards.
All good investors know that the race is long. Employ the stock picking talents of the best professional fund managers who time and time again beat the rest of the market. Earn moderate but steady investment returns over many years and you'll win the race in the end.
Quote 4. Baron Rothschild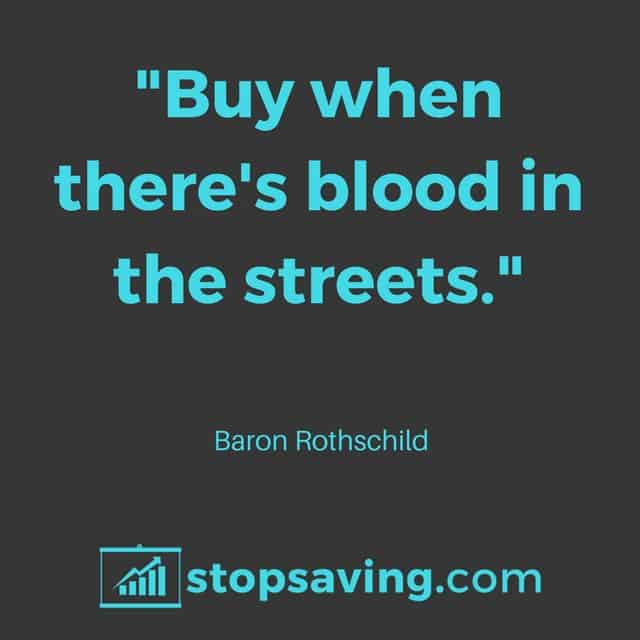 It's often interesting reading the financial news during a market meltdown. The front page of the Wall Street Journal or the City AM may say things like "Investors head for the exits in a sea of market turmoil". Instead, what they should say is "the streets are red, assets now on sale!"
All too often short term market downturns or corrections are exacerbated by panic selling. By definition if everyone is trying to sell, the buyer has the upper hand.
If you started investing shortly after the 2008 stock market crash when most people were scared to invest, you would have done very well for yourself.
Quote 5. Peter Lynch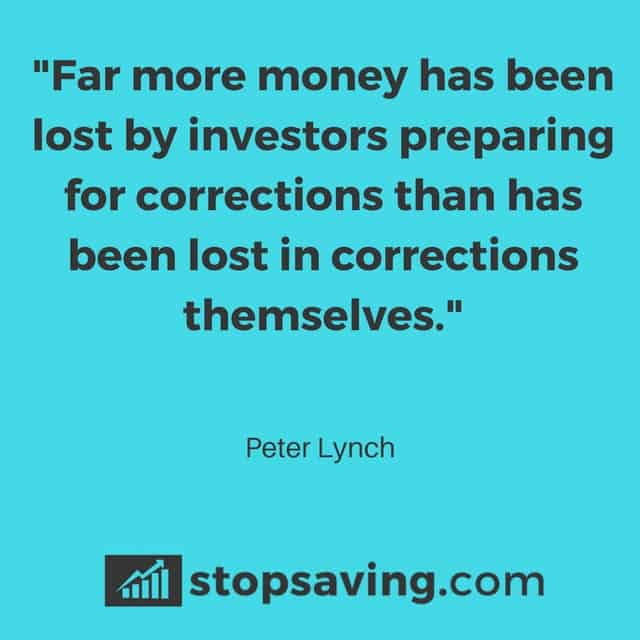 This is one of my favorite investing quotes. It's easy to stress out and sell your investments when doom and gloom hits the news and you think the stock market is going to tank.
Sometimes it does tank, miserably. But more often than not it's just noise and the 'correction' is just a blip in a long-term rising stock market.
Stick with good fund managers who hold stocks in quality companies in their funds; stocks that will grow for the long-term because they have great products, brands, managers, and have enough debt-free cash to see them through the next stock market storm.
Quote 6. Robert G. Allen
There's nothing wrong with keeping a bit of cash in your savings account because you need the money in a few months time. But the majority of your spare change should always be invested.
Saving your money will actually lose you wealth if the interest rate you earn on your savings account is lower than the inflation rate; your money will grow slower than the value of the things it can buy .
Investing on the other hand won't always be smooth sailing, but over many years you'll be far richer from sensible investing than you would if you had kept that money in your savings account earning minimal interest.
Quote 7. Sir John Templeton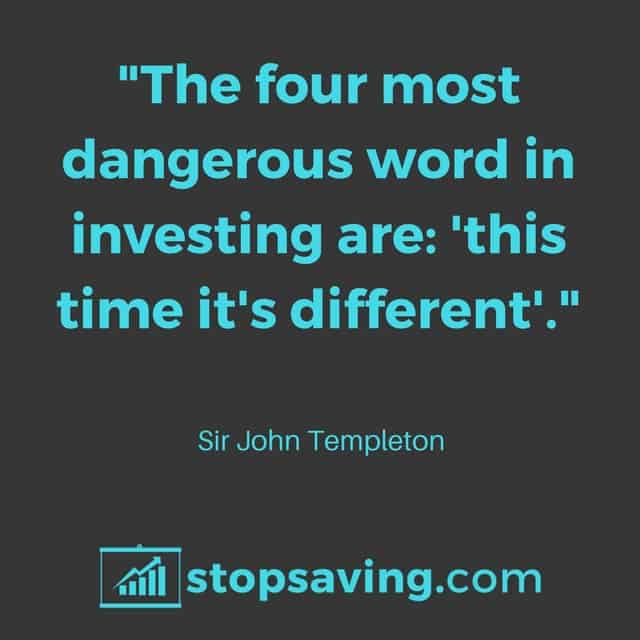 In the dot.com bubble of 2001, investors bought stocks in every technology company with a 'dot.com' on the end of the name that they could get their hands on. They truly believed those stocks would go up forever, but they were sadly mistaken…
There is only one sure thing in investing: there are no sure things in investing. Don't for one second think you've picked a stock that will always go up. Spread your investment risk through diversification and cost averaging.
Investing in funds is a great way to diversify your portfolio. Here the fund manager will invest in a basket of assets under a single investment umbrella.
Quote 8. John D. Rockefeller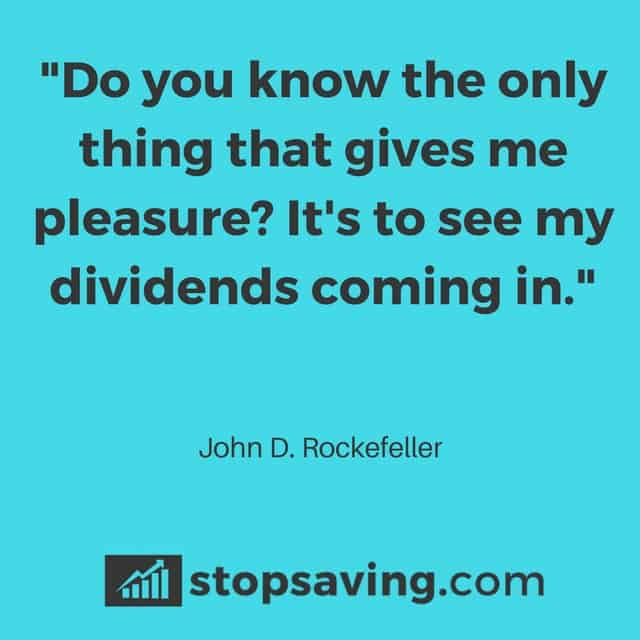 Dividends are small payouts to shareholders as a reward for buying stocks in a company. Dividends are great since you receive them regardless of whether a company's stock price goes up or down.
If you reinvest the dividends you receive back into your investment portfolio, you could more than double your retirement pot. Over time, those dividends will compound on each other more and more, and you'll be glad you never used your dividend cash to buy a new car.
Some funds pay up to 4% in dividends each year because they are made up of lots of dividend paying stocks.
Quote 9. Benjamin Franklin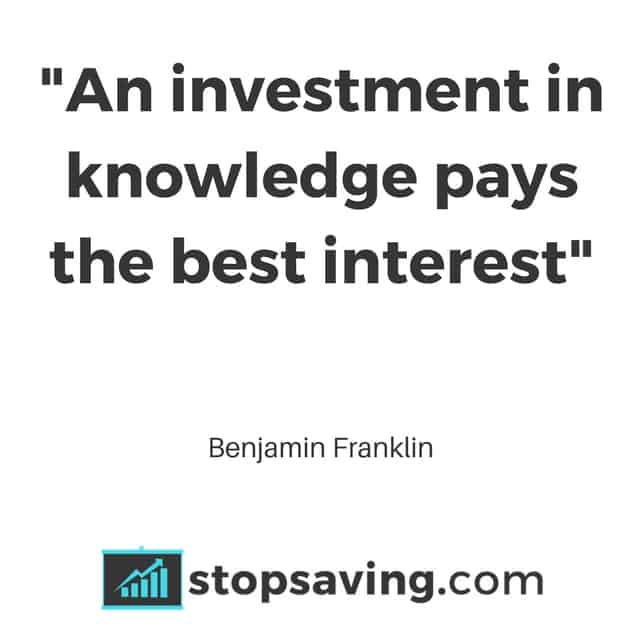 You can make a lot of money investing – if you know what you 're doing. You can lose a lot of money if you don't.
Take some time to learn how to invest. It's not as difficult as you may think. Sure, there's a lot to learn in this area, but getting the basics right isn't difficult. That said, getting the basics right will seriously improve your chances of one day becoming financially free.
How much time do you spend each week refreshing your facebook page? If you spend just a fraction of that time reading investment articles you'll have a serious amount of knowledge further down the road.
Quote 10. Robert Kiyosaki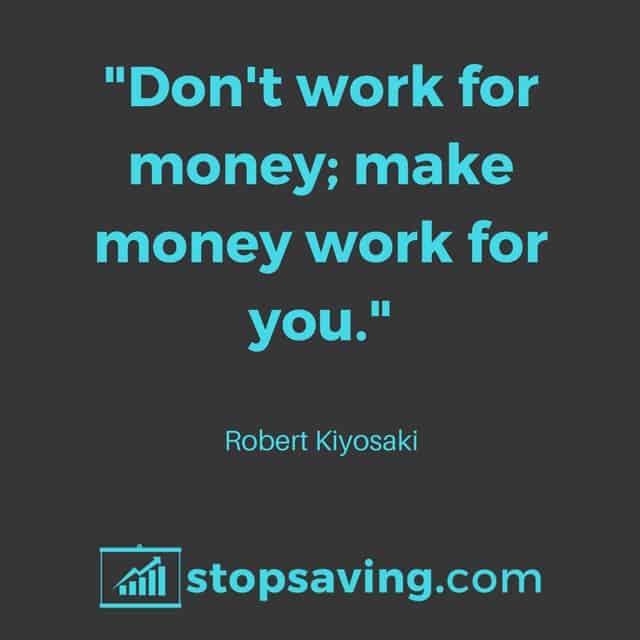 Working and saving your income each month has zero scalablity or longevity to it, as its growth depends on you continuing to add money to your savings account. If you were to lose your job tomorrow, your savings would stop growing.
The truly wealthy accumulate income generating assets like businesses, properties or well-diversified investment portfolios. Over time, those assets start working for them, even while they sleep.
Managing your wealth this way means that you will never have to work to replace the money you spend. Instead, it will be automatically replenished by your assets.
I'd be interested to hear which of the above quotes you like the most, or if there are any other quotes you think should make this list. You can leave your feedback in the comments below.