Value Averaging Explained: Average Your Monthly Investments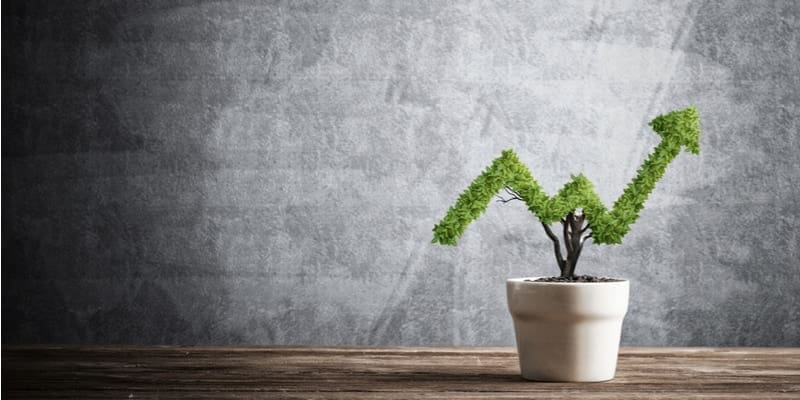 Value Averaging is an alternative to Dollar Cost Averaging. In this post, we'll look at:
How Value Averaging ("VA") works.
How to use this VA Spreadsheet.
What is Value Averaging?
With VA, you invest money each month into your investment portfolio. But unlike with Dollar Cost Averaging ("DCA"), the amounts differ depending on the fund values at the start of each month. If a fund does well one month, its unit price goes up, so you buy fewer units. If it does badly another month, its unit price goes down, so you buy more units.
Some months, you may even sell fund units using the VA strategy. This would only happen if the unit price of a fund you're invested in goes up massively over that month.
In summary, VA means you:
Buy more fund units when they're cheap, or at good value.
When the units are more expensive, you buy fewer of them.
When they're really expensive, you sell some of your units at a profit.
The maths behind Value Averaging
The key word in Value Averaging is value. Make sure that each month you invest the same value as you did the month before. This is different to saying that you invest the same 'amount' each month.
Let's explain VA with a quick example:
Assume you want to invest £1,000 into 'Fund X' over the next 10 months using VA. In this scenario, the average value of your investment will need to go up by £100 each month (£1,000 divided by 10 months).
Month 1:
You spend £100. Assuming the price per unit of Fund X is £1.00 at this time, you buy 100 units.
Month 2:
The unit price drops to £0.90 . This means the 100 units you bought in month 1 are now worth £90.
You need to invest an average value of £100 each month, so for month 2, you need to have £200 invested.
Since your investment value has dropped to £90 at the start of month 2, you need to invest £110 in month 2 to make sure you have £200 invested.
For £110, you buy 122 units of Fund X at £0.90 per unit.
Side note: In month 2, the unit price goes down, so you buy more units.
Month 3:
The unit price goes up to £0.95. This means the 222 units you now own (the 100 units you bought in month 1 plus the 122 units you bought in month 2) are now worth £211.
You need to have £300 invested for month 3. Since you already have £211 invested, you need to invest another £89 in month 3.
At the price of £0.95 per fund unit, you buy 94 units of Fund X.
Side note: Notice how in month 3 the unit price increased from £0.90 to £0.95 so you bought fewer units.
We won't go over every month (months 1 through 10) in the above example but I think you get the idea. You can find a more detailed explanation of Value Averaging here.
The Value Averaging Calculator
VA is a more complicated than simply investing a set amount of money each month (Dollar Cost Averaging). That said, VA is a great way to invest, so I've built a 12 month VA spreadsheet that automates the process for you.
For the rest of this post, I will explain how to use the spreadsheet.
Step 1: Download and save the VA spreadsheet
Step 2: Decide how you wish to invest over the next 12 months
Assume you want to invest a total value of £5,000 over the next 12 months spread out over 3 different funds. For this example, let's use the following 3 fund percentage split: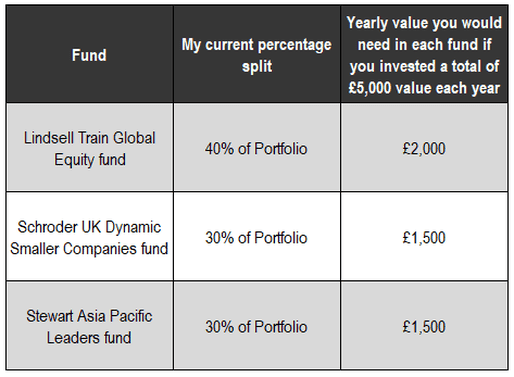 Side note: Please don't take the above as a recommendation to invest in the above funds. These are just for illustration.
Step 3: Enter the beginning information in the spreadsheet
​
On the instructions tab of the spreadsheet, enter the values from the above table. Assume you had nothing invested at the start…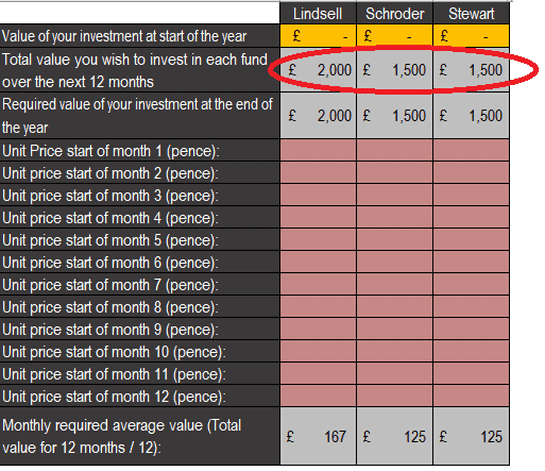 The 'required value of your investment at the end of the year' and the 'monthly required average value' cells will automatically populate.
Step 4: Enter the information for month 1
On the first day of month 1, enter the unit prices in pence (or cents depending on the currency) for each of the 3 funds on that day. You can find the fund prices displayed when you log on to your online investment account.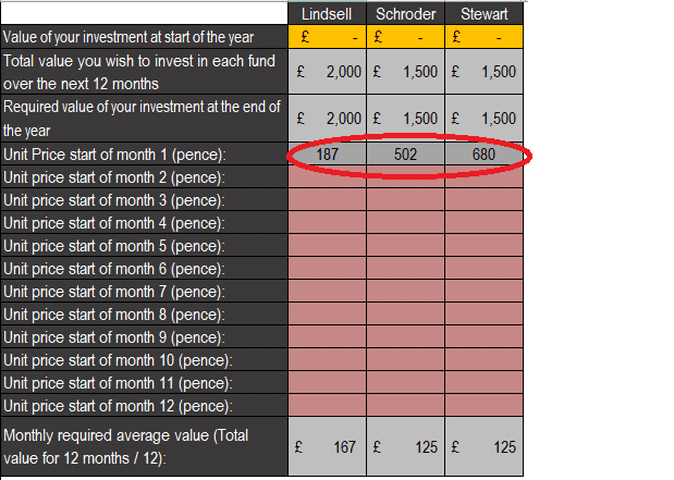 Step 5: Invest what the spreadsheet tells you to invest for each fund in month 1
There are separate tabs on the spreadsheet for each fund. After you have entered the starting fund value for each fund, go to the tabs for each fund to see how much money you need to invest for month 1…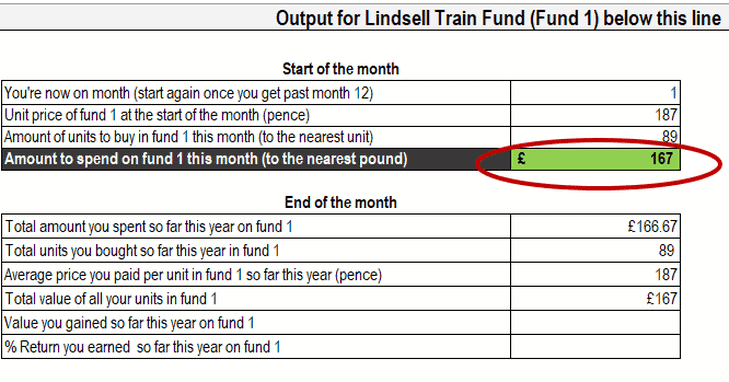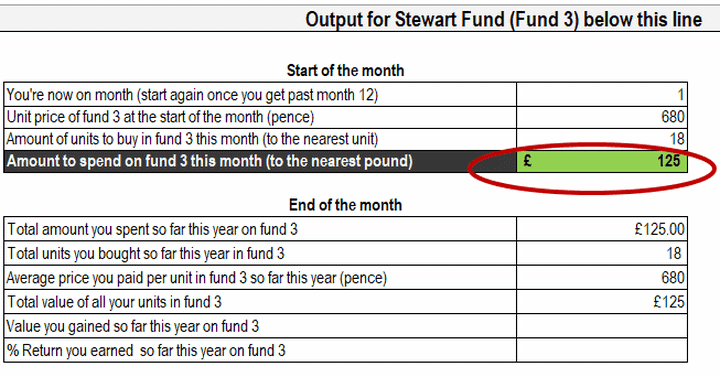 Step 6: Lather, rinse and repeat each month
At the starts of months 2 through 12, follow the same steps as you did for month 1.
Side note: there's extra information on each of the fund tabs for reference to show how the different amounts are calculated.
Here's a link to the VA spreadsheet in case you missed it. Happy Investing!