Bitcoin Technical Analysis 26th August 2021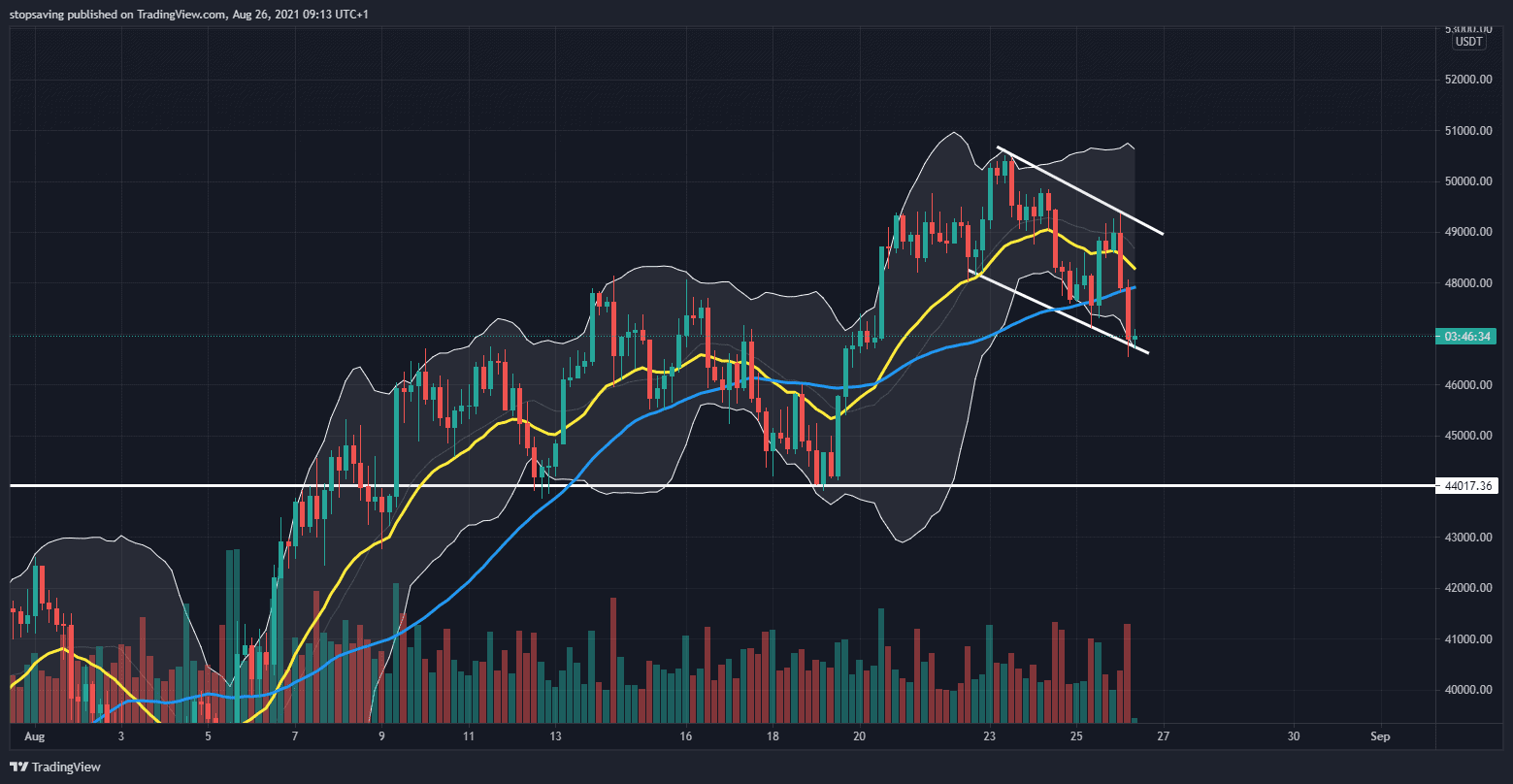 While the longer-term uptrend of bitcoin still remains intact, Bitcoin has just closed a four-hour candle below the previous low.
We now have lower highs and lower lows on the bitcoin 4-hour chart, which means that bitcoin is now officially in a downtrend on this time frame.
Should the bulls be concerned here? Or is this just a healthy correction before bitcoin continues higher?
On that note, let's jump into the charts.
Bitcoin 1-day chart:
As usual, we will start off with the one-day chart for bitcoin.
As it stands, nothing much has changed from our update yesterday.
Bitcoin is still in an uptrend on the daily time frame with higher highs and higher lows.
However, we can see that the length of each rally is getting shorter and the downward spike waves are becoming more frequent.
This suggests that bitcoin is starting to show weakness, which does open up the possibility for a larger correction to the downside.
But until we have an official trend reversal (with a lower low and a lower high on the daily chart), bitcoin is still in an uptrend on the daily time frame – albeit what is now a very slow and shaky one!
Per the above chart, bitcoin is still trading above the 200-day moving average (orange line) and 21-day exponential moving average (yellow line). These lines are both around $46,000 for now. And these are crucial moving averages for bitcoin to hold.
If bitcoin closes a daily candle below these levels, it is likely to test the bottom side of the Bollinger Band as the next major support area. This could be somewhere between $44,000 and $43,000 if this scenario is to play out.
Bitcoin 4-hour chart:
The 4-hour chart is more concerning for the bulls. As mentioned before, bitcoin is now in a downtrend in this time frame. As of writing, bitcoin has formed a downward sloping channel, as volatility expands to the downside.
In order for bitcoin to turn around here, we would like to see the Bollinger bands get narrower (meaning volatility is contracting), and a W-bottoming pattern form. Next, we would like to see bitcoin close a 4-hour candle above the 21 exponential moving average (yellow line). We would also like to see this moving average have an upward slope.
Until then, pressure remains to the downside in the short term. As outlined on the chart, $44,000 is a key area for bitcoin to hold, and I would expect a lot of buying pressure in that region if bitcoin goes go that far down. Incidentally, this would also likely be somewhere around the bottom Bollinger band on the daily time frame.
Conclusion:
Overall, bitcoin is still in an uptrend on the daily time frame. And the market structure is not broken yet. However, the 4-hour time frame does look sketchy right now. With that said, I see a lot of risk in shorting bitcoin right now. I am personally happy to sit in cash and wait for clearer signs of recovery.
Sign up for our newsletter at the footer of this page if you would like to get these updates as they come out, or follow me on Twitter.
Disclaimer: This is not investment advice, it is just my opinion on the bitcoin chart right now. I can and will be wrong because markets are not predictable. My opinion can and will change depending on what the chart does next.