Bitcoin Technical Analysis 06 July 2021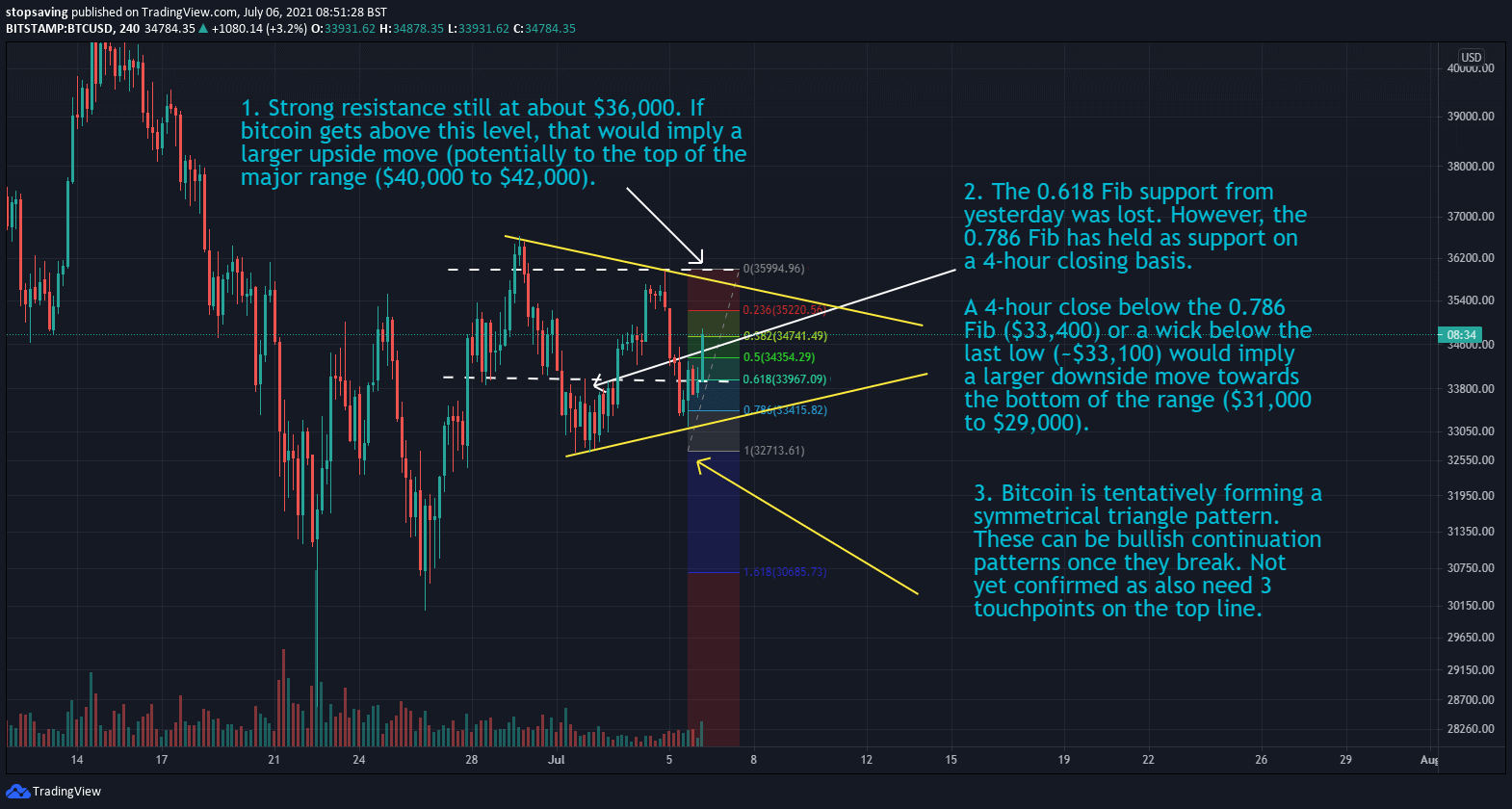 Bitcoin had a strong bounce yesterday, after reaching the 0.786 Fibonacci level (~$33,400) of the last swing high move. In fact, bitcoin wicked just below this price to about $33,100 for a brief time. As discussed in Monday's update, it was crucial for the bulls for the 0.786 Fib to hold.
At the time of writing, bitcoin is priced around $34,700. Further upside looks possible from here based on a few indicators. However, I would prefer to wait for price confirmation to be more confident of this view.
With that said, there are two key levels to pay attention to now. To continue higher, an hourly close above $36,000 would be significant. But if bitcoin gets back below yesterday's low price, further downside becomes likely.
On that note, let's jump into the charts.
Bitcoin 1-day chart:
The one-day chart above looks similar to the chart we saw yesterday. With this in mind, not much has changed from our analysis.
The 21-day EMA (yellow) line is acting as resistance to the bitcoin price. But bitcoin has now tested it multiple times. The more it tests this level, the higher the likelihood of a true breakout above it. This would also coincide with an increase in the slope of the 21-day EMA. That would be bullish.
Added to this, the 21-EMA and the 50-day MA are now even closer together than they were yesterday. If these cross, that too would be bullish.
The Bollinger Bands and MACD are both contracting. As mentioned yesterday, this implies that a large move will come when they eventually do expand.
We can also note an upward sloping trendline is tentatively starting to form on the 1-day chart. So long as this trendline holds, the bulls have control.
Of course, if bitcoin loses this trendline, or breaks below yesterday's low, a move down towards the bottom of the range becomes likely in my opinion.
Bitcoin 4-hour chart:
The 4-hour chart provides more granular information about the current state of the bitcoin price. We can see that bitcoin found support at the 0.786 Fib level yesterday. So long as this holds, the bulls have nothing to worry about.
We can also see that bitcoin is tentatively forming a symmetrical triangle pattern. This is just a compression pattern that indicates a tightening range. The tighter this range gets, and the longer it goes on, the more violent the break will be when bitcoin eventually moves out of it.
For now, the pattern is not yet confirmed as we would need 3 touch points on each side for this to be in play. But this is worth monitoring as one potential scenario that sees bitcoin consolidate a few more days (or perhaps into next week) before eventually making its move.
Bitcoin 1-hour chart:
The 1-hour chart shows expanding volatility on two fronts. First, the Bollinger Bands are getting wider while Bitcoin trends above the top Band. So long as this condition holds, the Bands will continue to get wider while bitcoin trends upwards.
Secondly, the MACD histogram is breaking out of a downward sloping trendline. This is an early sign that volatility is starting to increase. Of course, this does not imply direction – we have the $36,000 and $33,000 areas for that.
Conclusion:
Bitcoin is gearing up for a larger move. The direction in which this move happens will depend on whether we get above $36,000 or below $33,000. Until then, bitcoin appears to be in a tightening range. At some point, that range will break, so let's keep a close eye on the chart.
Sign up for our newsletter at the footer of this page if you would like to get these updates as they come out, or follow me on Twitter.
Disclaimer: This is not investment advice, it is just my opinion on the bitcoin chart right now. I can and will be wrong because markets are not predictable. My opinion can and will change depending on what the chart does next.