5 Things To Help You Survive The Crypto Bear Market
The crypto bear market is in full swing right now. As an investor, you may be asking yourself what to do. Here are five things that might help:
1. Zoom out
It's easy to take a short-term view when markets are falling. Taking a step back and looking at 'the bigger picture' should help keep your emotions in check.
The chart below shows the price of Bitcoin in 2018. Not a pretty site!
But now look what happens when we zoom out and use a logarithmic scale chart:
2. Stick to your long-term investment plan
Imagine you are far out at sea sailing in a large ship. The ship is your long-term investment plan. The sea is the crypto market.
When the sea gets rough, your ship is your best hope of survival. Jumping off the ship is a bad idea.
Of course, you need a sturdy ship that can withstand stormy waters! That's where portfolio diversification among different asset classes becomes essential.
Maybe your long-term investment plan is to slowly accumulate digital assets each month and hold them long term. If you were happy to buy Bitcoin at $10,000 or $15,000 earlier this year, then ask yourself why.
If you bought Bitcoin because you believe that long-term it will appreciate in value, then today's lower prices may be appealing to you.
3. Don't try to catch a falling knife
It's very difficult to call the bottom of any market – especially with something as volatile as bitcoin.
Bitcoin could easily halve in value from here. Or, it could rally to all-time highs in less than a year.
For this reason, buying small amounts of crypto over time rather than a large amount all at once is the safer option.
4. Take a 'financial news diet'
Financial and crypto media is a business. Media companies want to sell content that triggers emotions in their readers.
Stories about massive investment opportunities or impending financial doom both make for better headlines than the boring stuff in between.
Half the experts in the media will tell you to buy and hold bitcoin and other cryptos because they're going to the moon. The other half will tell you cryptos are in the biggest bubble of all time, which could burst any day now. Pay them no attention.
Do your own research and empower yourself to make your own investment decisions. You are responsible for your financial future, not the media.
5. Stop looking at your portfolio every 5 seconds
Seriously, this isn't going to help you in the long-run. If you have a good long-term investment plan, stick to it and forget about it.
Refreshing your Blockfolio or Cryptocompare account 40 times a day will stress you out for no result. You will never get that time back.
Instead, put your head down, and focus on other ways to make money. Build a business or take courses to improve your career skills so you can demand a higher salary.
Treat every one of your wealth building endeavours as a long-term project and you'll be just fine.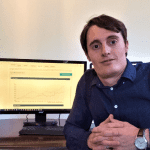 Jonathan Hobbs, CFA, is an author, entrepreneur and financial blogger. He is a Director of Ecstatus Capital. In his personal portfolio, he invests in stocks, mutual funds, startup companies, gold and digital assets.