Ravencoin Explained: Asset Transfer On The Blockchain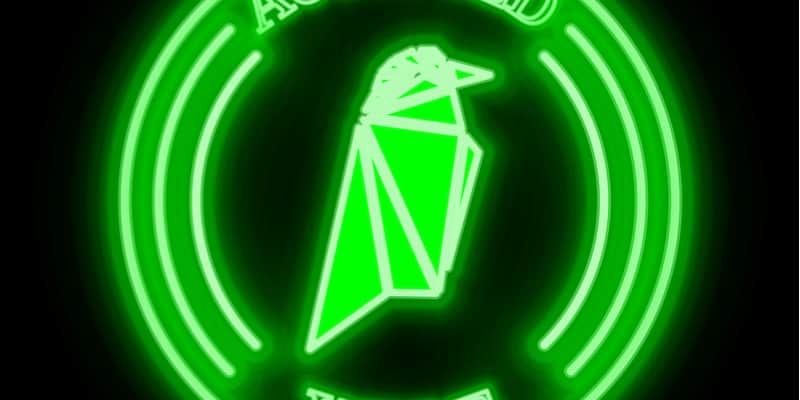 "In the fictional world of Westeros, ravens are used as the messengers who carry statements of truth. Ravencoin is a use case specific blockchain designed to carry statements of truth about who owns what." – Ravencoin website.
In the current crypto bear market, many people focus on price. They should focus on value instead. Only the crypto investments that have real-world value will succeed in the long run. In this article, I'll give a basic overview of Ravencoin (RVN).
Disclaimer: this article is not investment advice. It's for information only and represents my opinion. The fund I am associated with, Block X Wealth, currently owns Ravencoin as part of a diversified digital asset portfolio. Digital assets are extremely risky investments. Always do your own research before making any investment decision.
What problem is Ravencoin trying to solve?
Bitcoin is the world's most secure blockchain. It allows us to easily transfer value without a bank in the middle. However, Bitcoin currently has limitations when it comes to transferring ownership of real-world assets such as gold or share certificates.
Counterparty, for example, sits on top of the Bitcoin blockchain and lets people transfer assets through normal bitcoin transactions. But if you send an asset to the wrong Bitcoin address, you could lose it forever. It also means you must pay a bitcoin transaction fee for every asset you transfer.
Ethereum aids asset transfer with ERC-20 tokens through smart contracts. However, the Ethereum network may have multiple ERC-20 tokens with the same name. This is a problem for transferring real-world assets, which often need to be unique.
What is Ravencoin?
Ravencoin (RVN) is a 'bitcoin like system' for transferring ownership records of unique assets on the blockchain from one party to another.
Let's now look at some key points about Ravencoin…
1. Ravencoin is "asset aware"
The Raven protocol can identify unique assets. This means asset-backed tokens can be created, tracked, and transferred on the blockchain. It also means assets can't be accidentally destroyed by sending them to the wrong wallet address.
Creating a unique asset token through the Raven protocol is a simple process. Anyone can create asset tokens on the Ravencoin blockchain. Each asset has a unique identifier and set quantity which is determined by the asset token creator. Once created, an asset token (representing ownership rights to the underlying asset) can be transferred to any Ravencoin address.
In order to create a unique asset token, people need to 'burn' some RVN. When you burn RVN you remove it from circulation.
2. Ravencoin is a fork of Bitcoin
Ravencoin mining began on 3rd January 2018 after a fork of the Bitcoin code. However, it has some important differences to Bitcoin:
Raven has a maximum coin supply of 21 billion (Bitcoin's is 21 million).
Raven has an average block time of 1 minute (Bitcoin's is 10 minutes).
The Raven block reward for miners started at 5000 RVN (Bitcoin's started at 50 BTC).
Raven uses the X16R mining algorithm (Bitcoin uses SHA-256).
 Read this post on bitcoin for a better understanding of mining and block rewards.
3. Ravencoin never had an Initial Coin Offering
The 2017 ICO mania was out of control. Many new crypto projects raised large amounts of money in an unregulated way. The regulatory chickens are now coming home to roost.
Since Ravencoin is a fork of Bitcoin, it never had an ICO. This protects the Raven project from any regulatory scrutiny that may arise as a result of having an ICO.
Ravencoin is a pure open-source project, with no pre-mined coin allocation to its founders.
4. Ravencoin mining is ASIC resistant
As mentioned earlier, Raven uses the X16R mining algorithm. Like Bitcoin's SHA-256, this uses Proof-of-Work to secure transactions on the network. Ravencoin's mining algorithm is ASIC ("application-specific-integrated-circuit") resistant. In other words, people can mine Ravencoin without expensive mining equipment. This means two things:
A fair and decentralized Raven network.
Electricity consumption for mining is low (compared to, say, Bitcoin mining).
Creating asset tokens on the Raven Network
Let's now dive deeper into the asset token creation process. The goal here is to create a token that represents ownership of a unique real-world asset on the blockchain. Anyone can create an asset token on the Ravencoin blockchain.
The person creating the token will determine:
The token name.
The token supply.
Whether or not the token is divisible (number of decimal places).
Whether or not new tokens can be issued in the future.
The below examples describe this process in more detail…
Example 1: Fine Art
Bob buys an original Picasso painting. He wants to represent his ownership of the painting on the blockchain with a unique token.
Bob burns 500 RVN to create a unique PICASSO1 token. If he ever wants to sell the painting, or give it away, he needs to transfer the unique Picasso Token to the new owner. The blockchain would then show that the new owner owns the painting.
Since the painting is one of a kind, Bob creates the PICASSO1 with a supply of one, with no ability to create more tokens. Since Bob can't sell half a painting, the token is not divisible (zero decimal places).
Example 2: Startup Company
Alice starts a magazine company.  She wants to raise money from investors to grow her business.
First Alice creates a token for the company called MAGAZINE. The token represents equity ownership of Alice's company on the blockchain.
Alice decides to create 100 MAGAZINE tokens, each worth $100. Investors who buy the tokens can claim a proportionate equity stake in Alice's company.
Since Alice may want to raise more money later, she creates the token so that more of them can be issued in the future. She also sets the token to be divisible by 100 (2 decimal places) so investors can buy partial ownership.
People can create asset tokens for just about any type of real-world asset. The use cases are endless. Some examples include:
Property deeds
Gold and Silver coins
Supermarket reward points
In-game virtual goods
Share and bond ownership certificates
See this Raven asset creation demo to learn how to create assets on the Raven protocol.
Other Ravencoin features: Messaging and Voting
The messaging and voting features of the Raven Protocol make it ideally suited for its purpose of asset ownership transfer via the blockchain.
The Raven messaging system allows holders of a specific token to receive messages. For example, Alice could communicate important updates about her business to MAGAZINE shareholders. In this scenario, the messaging system would have a specific messaging token layered on top of the MAGAZINE token.
Shareholders are usually entitled to vote on company resolutions at shareholder meetings. The Raven messaging system would allow Alice to advise MAGAZINE shareholders to vote on a resolution. Alice would send VOTE tokens in the message, which token holders would use to vote.
Ravencoin Team
Ravencoin is funded by The Medici group. The Medici Group is a subsidiary of Overstock.com, which is listed on the NASDAQ. Overstock is an American internet retailer which generated over $1.7 billion revenue in 2017. They also accept Bitcoin.
Patrick Byrne is the CEO of Overstock. He is also the executive chairman of a Tzero—a platform being built to trade security tokens in an easy, regulatory compliant, and efficient way.
Given Ravencoin's use case for tokenizing real-world assets, there could be an exciting story here.
Security tokens represent tradeable financial assets like stocks, bonds, or gold. The idea is to record financial asset ownership and entitlements on the blockchain so they can be traded and settled more efficiently. This is an excellent use case for blockchain technology. The blockchain protocol that captures this market in the future is likely to have enormous value.
Tron Black, who co-authored the Ravencoin whitepaper, is the principal software developer of Medici Ventures (owned by Ovestock.com where Patrick Byrne is CEO). Tron Black previously worked at Tzero as a senior software developer.
Bruce Fenton, a Board member of the Bitcoin Foundation, advises the team.
Ravencoin asset layer launch
The Ravencoin asset layer went live on 5th November 2018 when the first Ravencoin asset was recorded on the blockchain. Prior to that Ravencoin was in test mode.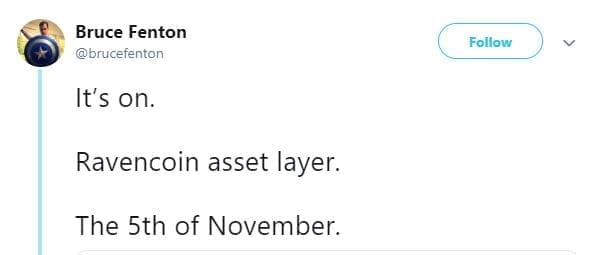 In order to activate the asset layer, all RVN miners had to upgrade to the latest Raven wallet. The wallet was available at midnight on October 31st 2018. One mining pool—which owned just over 10% of the Raven hashing power—held up the launch by failing to upgrade on time.
The rest of the Ravencoin mining community then banded together and the asset layer was launched successfully. They achieved this by paying for extra hash power to conquer the rogue Ravencoin mining pool that refused to update their wallet.
Conclusion
Unlike many other crypto projects, Ravencoin prefers not to be a Jack of all trades. Instead, it specializes in one thing only: asset transfer on the blockchain.
Backed by strong funding from the Medici Group and having Bitcoin 'OG' Bruce Fenton at the helm, it could have a bright future ahead of it. Of course, much of that will depend on how crypto adoption evolves over the coming years.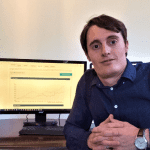 Jonathan Hobbs, CFA, is an author, entrepreneur and financial blogger. He is a Director at Ecstatus Capital. In his personal portfolio, he invests in stocks, mutual funds, startup companies, gold and digital assets.