Two Reasons To Sell Nvidia (And One Reason Not To…)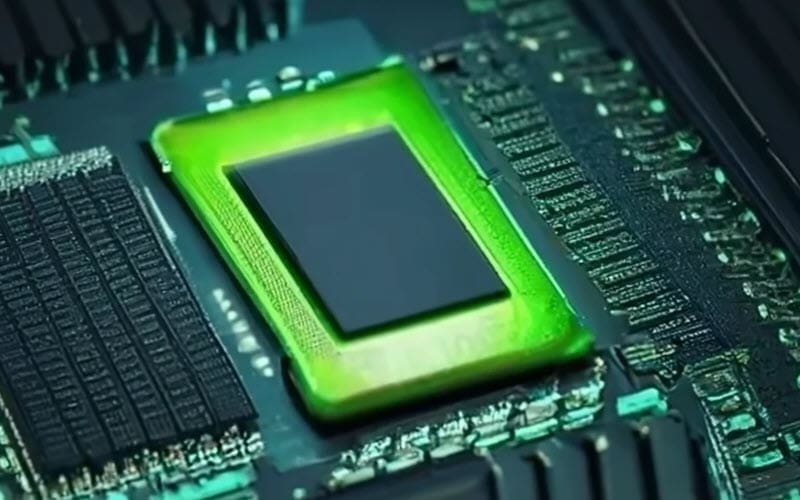 Unless you've been living under a rock, you'll know that Nvidia's been one the best investments of 2023 so far. The AI chip maker's stock is up over 200% this year, and over 300% since it bottomed last October. But for the contrarian investor, there could be two reasons to sell Nvidia over the coming months (or at least, take some profits…).
Sell Nvidia reason 1: Too much hype.
Warren Buffett said it best: "Be fearful when others are greedy, and greedy when others are fearful". Nvidia's been unstoppable for most of this year. Its rally got everyone greedy – from Wall Street's elite to the casual investor. 
Mind you, there's been good cause for all the greed. Nvidia's latest earnings report was the talk of the town. The company raked in a record $13.5 billion last quarter – doubling its revenue score from the same time last year. This isn't just a big number; it's a testament to NVIDIA's dominance of the AI and GPU market.
But here's the caveat. The stock price has been rising much faster than its earnings. Its price-to-earnings ratio (P/E) is now above 100, which is over four times higher than the P/E of the Nasdaq. In other words, investors are paying a hefty premium for Nvidia's earnings compared to other stocks.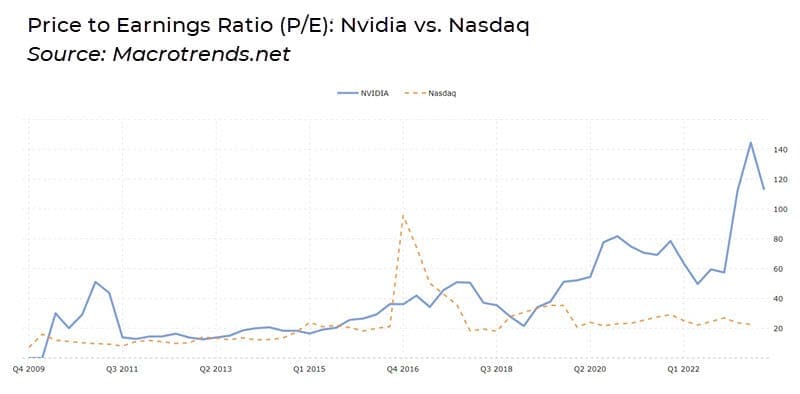 Sell Nvidia reason 2: Its price chart is starting to show weakness.
Despite its solid earnings report last quarter, technical traders might be looking to sell Nvidia. The next chart suggests that sell pressure is on the rise, and Nvidia's uptrend could be losing steam. As usual, I'm using the weekly time frame here to focus on the broader trend, while ignoring the short-term noise.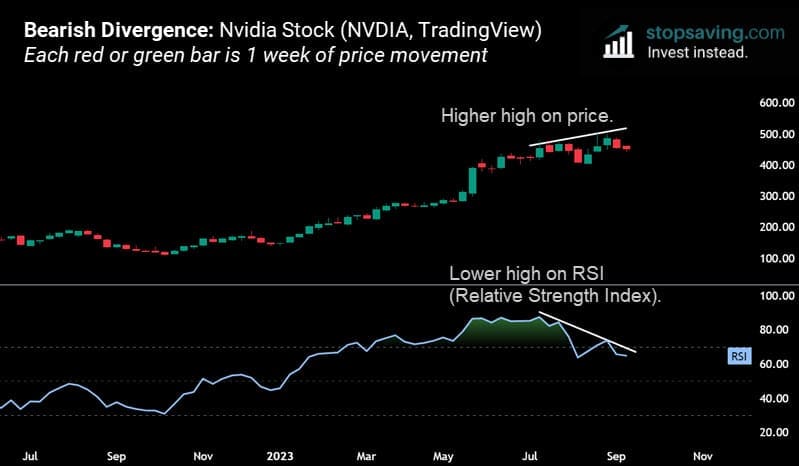 The chart shows bearish divergence starting to form between Nvidia's stock price and the Relative Strength Index (RSI, blue line). As you can see, the price made a higher high in August than it did in July. But over that time, the RSI made a lower high…
Put simply, the RSI measures the relative strength of buy pressure vs. the strength of sell pressure. Since it's trending down here, sell pressure is getting stronger relative to buy pressure (according to the indicator). Notice too how the RSI has been trending up since October. But the indicator is now dipping below the 70 "overbought" line for the second time in the past month. 
A weekly RSI above 70 is a sign of strength, and usually something you'll see in a strong uptrend. We saw that with Nvidia from March to July this year. But now, not so much. This suggests that buyers could be losing their advantage.
Side note: You can learn all about the RSI in our Technical Analysis Simplified course. Checkout the first video for free here.
Reason to not sell Nvidia: It's still in a long-term uptrend
The RSI bearish divergence suggests there could be a bigger pull back in the stock over the coming months. But even if that happens, the long-term trend is still up. There always seems to be more money on the sidelines waiting to buy each dip. And that's a good thing for long-term investors.
Of course, that's easy to say if you bought Nvidia at the start of the year, when the price was a third of what it is today… 
The usual disclaimer: none of this is investment advice. It's just my opinion on the markets.