RNDR Token Guide: 5 Things Investors Should Know
RNDR token has been one of the top-performing cryptos of 2023 so far. So if you're considering it as a potential long-term investment, this guide has 5 things you should know.
1. Why "GPU rendering" is essential to the digital age
If you're into computer games, you've likely heard of "GPU rendering". Think of modern PC games with their detailed and lifelike graphics. Displaying these visuals smoothly is a lot of work for your computer. That's where the Graphics Processing Unit (GPU) comes in. 
The GPU is like a powerhouse that ensures all the visuals – from character details to expansive landscapes – appear seamlessly on your screen. I.e. the GPU "renders" those visuals quickly and smoothly to your PC. This way, you can play the latest version of World of Warcraft without interruption…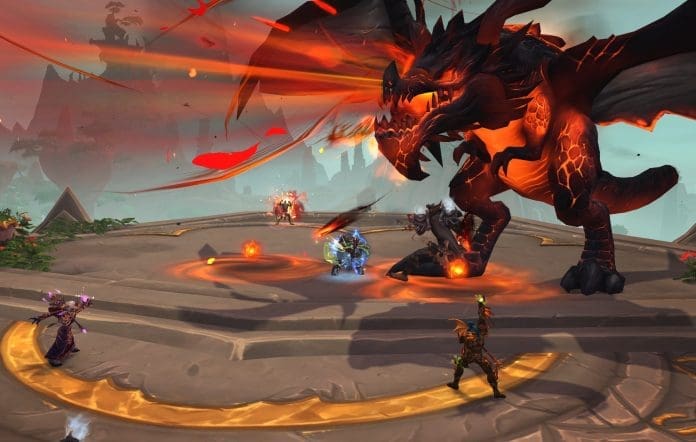 But GPUs aren't just for highly addictive multiplayer games. They're also used for:
Crypto mining:

GPUs were once the go-to hardware for Bitcoin mining. This has now mostly been replaced with ASICs (Application-Specific-Integrated-Circuits).

You can read more about Bitcoin mining in our

investor's guide to Bitcoin.

 

Video editing and animation:

Like modern computer games, videos (and their special effects) also need GPU power.

Deep learning and AI:

Training machines to process information faster and more accurately takes a lot of GPU power. It's why the stock of GPU chip maker

Nvidia

jumped so much in 2023. 
So clearly there's demand for GPUs. And as AI and other technologies evolve, we'll want those GPUs to render things a lot faster.
2. The purpose of the Render Network: Decentralized GPU rendering
Before we get to the RNDR token, we first need to understand the point of the Render network. And that is this: it lets computers share their unused GPU resources. That means faster GPU processing for everyone – without spending the big bucks on a top-of-the-range GPU. 
See, a GPU is a piece of hardware that does most of the rendering. But when a rendering job is too much work, it calls on a rendering network to help with the heavy lifting. Rendering networks are made up of lots of GPUs, so they have a lot more rendering power. 
Think of it this way. If Nvidia's GPU chips were the striker in a football match, the rendering network would be midfield providing support and setting up plays. That midfield might be Amazon Web Services (AWS), which, among other things, offers GPU rendering services. 
For this guide, we can split rendering networks into two buckets:
Centralized rendering networks: GPU power comes from a single server (or group of servers) managed by one company.
Decentralized rendering networks:

GPU power comes from a distributed network of computers around the world. This is NOT managed by one company.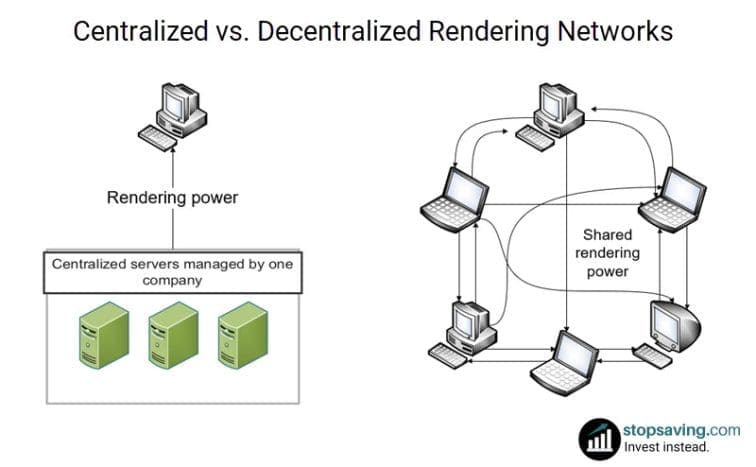 Render is a prime example of a decentralized rendering network. It harnesses blockchain technology to distribute rendering power to everyone who uses it.
3. How the Render network and RNDR token work together
Think of a busy marketplace where people go to get their rendering jobs done. This marketplace is the Render network. Now, instead of using regular money, everyone in this marketplace uses a currency called RNDR to pay for services. If you're looking to get a job done, you hand over some RNDR tokens. And if you're the one doing the job, you receive these tokens as a reward for your efforts.
As word spreads and more people discover this marketplace, something interesting starts to happen. The demand for RNDR grows. That's because everyone wants to get their rendering jobs done here – and to do that, they need RNDR tokens. So the more people that join, the more valuable these tokens potentially become. In theory, only about 600 million RNDRs will ever be created. So unlike fiat currencies, RNDR was designed to have a maximum supply.
But there's another side to this. If you have extra computer power lying around, you can offer it to the marketplace. In return, the Render network rewards you with RNDR tokens. The more you help, the more tokens you earn. Thanks to these incentives, lots of people pitch in, and the network gets faster and more secure. 
Side note: this is a standard argument for how blockchains and their currencies work together. You can read our Bitcoin guide for a deeper understanding of this (as well as some of the general benefits of blockchain).  
Another side note: RNDR is an ERC-20 token. That means you can send it back and forth across the Ethereum network. Check out our Ethereum guide to learn more about that.
4. Render could play a big role in the Metaverse and Web3
Jules Urbach founded Render in 2017. Before that, Urbach started a cloud graphics company called OTOY in 2008. Today, OTOY products are used in video games, virtual reality, and metaverse worlds. So as you can imagine, Urbach has a pretty good understanding of the Metaverse and Web3. 
Here's how RNDR could be an investment in each of these technologies.
Metaverse:

The Render network can provide the GPU power needed to create lifelike virtual worlds – essential for those immersive experiences.

Web3:

Since Render is decentralized, it's a good fit for rendering tasks on Web3. After all, the ethos of Web3 is an internet that runs on the blockchain.
Keep in mind that the Metaverse and Web3 are likely going to be a big part of our future. So is AI for that matter, and decentralized rendering could play a key role in that.
5. The risks of investing in RNDR token
There are two kinds of risks in crypto. There's market risk (which affects the whole crypto market) and project risks (which affects a specific crypto project). RNDR isn't immune to either of these.
When it comes to market risk, Render's market value is just a tiny fraction of Bitcoin's. That means it's way easier for a few big trades to move the price. It's like a whale splashing in a pond (RNDR) vs. the sea (Bitcoin). So typically, RNDR is a lot more volatile than Bitcoin (and that's saying a lot).
As for the project risks, here are a couple to keep in mind:
Competition: Render operates in the competitive space of GPU rendering, where the tech is evolving super fast. If another platform offers faster, cheaper, and more efficient rendering, Render could face stiff competition. 
The risks of decentralization: While Render's decentralized nature does have its advantages, it also means that any technical glitches or security breaches could impact the network's reputation. And that wouldn't be good for the RNDR token.
Wrapping up
Render is making waves in the GPU rendering world, and it's got its sights set on some pretty big sectors – gaming, AI, Web3, and the Metaverse. But like everything in crypto, it's got a few risks, too. So if you're thinking of buying into RNDR, do it in a way that doesn't involve as much risk. As always, dollar-cost averaging, or using technical analysis to look for safer entries, are smarter ways to do it. 
Key Takeaways:
GPU rendering

is crucial in today's digital age, powering everything from video games to AI and deep learning. GPUs are in high demand as technologies continue to evolve.

The

Render network

offers decentralized GPU rendering, allowing computers to share unused GPU resources. This makes GPU processing faster and more accessible to all.

RNDR tokens

are the currency of the Render network. As more people use the network, the demand and potential value of RNDR tokens grow.

Investing in

RNDR

has its risks, both from the broader crypto market and specific to the project. But Render's involvement in sectors like gaming, AI, Web3, and the Metaverse could make it a noteworthy consideration for investors.
As always, none of this is investment advice. It's just for information and education. If you're looking for more crypto information and education, sign up for our Wednesday newsletter.