Solana is halfway back to its all time high: Don't FOMO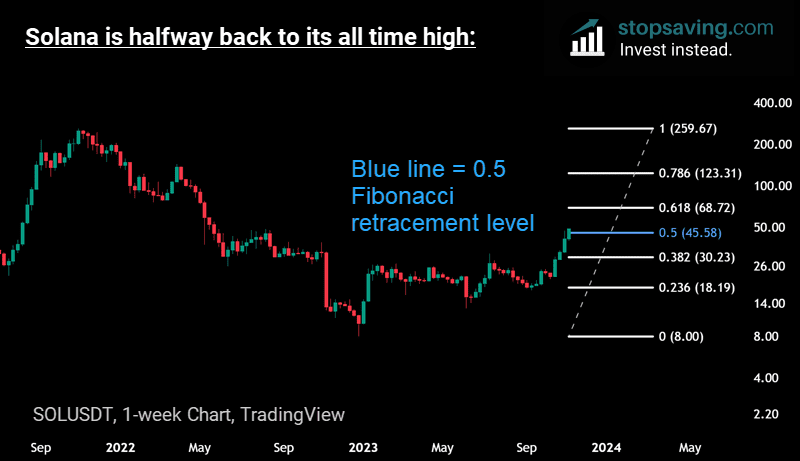 Solana has been one of the best-performing digital assets this year. SOL has rallied about 500% since its $8 low last December – meaning it's now recovered more than half its bear market losses. From here, Solana would need to see a similar percentage gain to reclaim its previous all-time high of $260 (November 2021).
Why the 50% Fibonacci level is important
The 0.5 Fibonacci retracement level (blue line, in the chart) is usually a big profit-taking area for traders. Here, it represents the halfway mark to back to Solana's all-time high. 
If you start to see Solana dip below this level in the coming days, it could be a sign of a bigger pullback ahead – perhaps to the 0.382 Fib level at around $30. That would also be a technical retest of its high in July.
If not, the 0.618 "golden Fibonacci" at around $69 is the next potential target. But given the downside risk right now, the upside reward potential doesn't seem worth the risk.
If you already bought Solana when it was much lower down, and plan to hold it for the long run, that's a different story. 
But would I buy it here? Absolutely not. When a coin is in a raging bull market you buy the dips. Not the rips.
If you're interested in understanding Solana's fundamentals as a long-term investment, check out our Solana guide here.