Long Bitcoin, Short The Banks? Not So fast…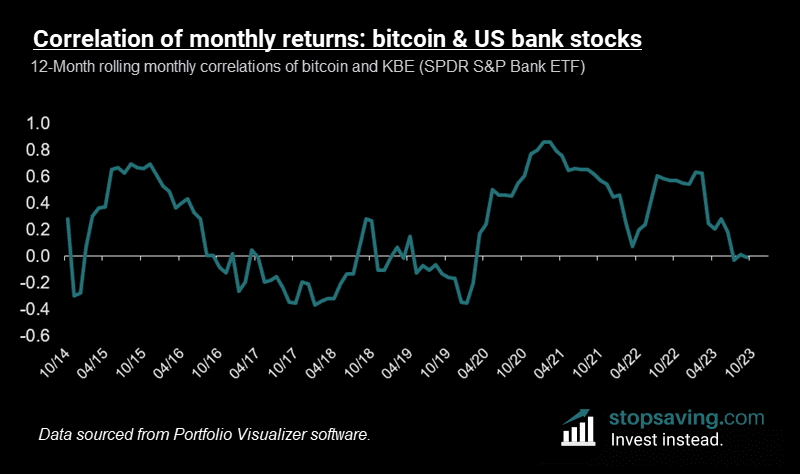 The SPDR S&P Bank ETF (KBE) is an exchange-traded fund that invests in American banks and other financial services companies. KBE is so far down over 20% this year, while bitcoin is up over 100%. As you'd expect, cries to "long bitcoin, short the banks" have now grown louder. But if you're a long-term investor trying to build a diversified portfolio, this chart might suggest a different view: to buy them both. 
The chart shows the relationship between the monthly returns of bitcoin and the US banking sector (represented by KBE) since 2014. Each month, the chart is updated to show the relationship for the most recent 12-month period.
This relationship is known as the 12-month rolling correlation.
When the correlation is

closer to +1

, it means bitcoin and KBE are moving in the

same direction

. When one goes up, the other tends to go up too, and vice versa.

A correlation

near -1

suggests they're moving in

opposite directions

. If bitcoin goes up, KBE might go down, and vice versa.
Right now the correlation is around zero. That means there's no statistical relationship between the two investments. In other words, they're doing their own thing.  
What's the takeaway here?
There's no point in owning different investments in your portfolio if they do the same thing most of the time. If one goes down, the other one would probably go down too, which defeats the whole point of diversification. 
But as the above correlations suggest, bitcoin and banks don't have such a good relationship. And that's exactly why they could work well together in a diversified portfolio.
For more quick takes like this, try our free weekly newsletter.