Silver's A Bargain, According To The Gold To Silver Ratio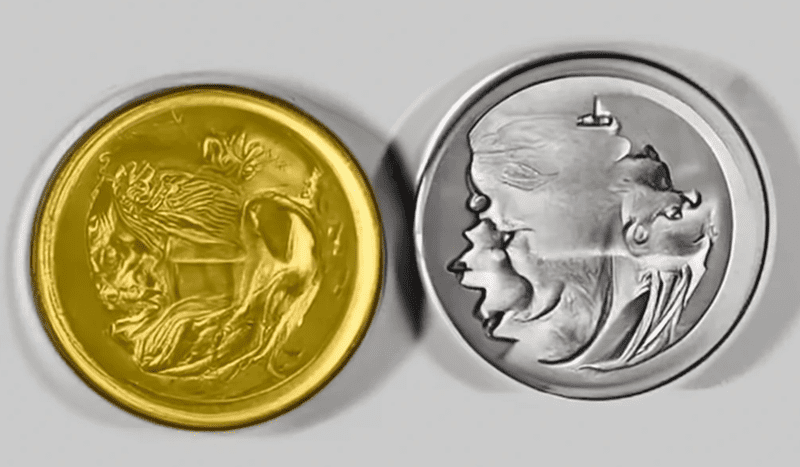 Gold's pretty much trading at all-time highs. Silver's only halfway there. The gold to silver ratio says silver's a bargain. Let's dig in.
What's the gold to silver ratio?
The gold to silver ratio is the number of ounces of silver it would cost to buy one ounce of gold. The higher the ratio, the more expensive gold is when priced in silver – or the cheaper silver is to gold. Right now, the ratio is sitting at around 80 or so. In other words, you'd need to fork out 80 ounces of silver for one ounce of gold. And although the ratio's been higher in the past (it spiked to 126 during the 2020 Covid crash), it still suggests silver is now cheap compared to gold.
You can chart the gold to silver ratio in TradingView by typing "GOLD/SILVER" in the Symbol Search bar. This will divide the price of gold by the price of silver to get the ratio: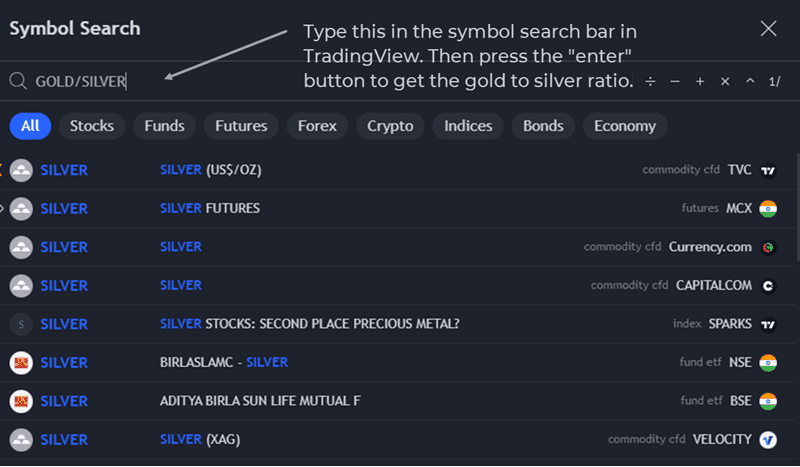 What's the ratio telling us now?
I've charted the ratio on a monthly time frame below, where each red or green candle is one month of price movement. I did this to cut out the short-term noise and focus on what might happen over the coming months, quarters, or even years. So if you're looking for silver to outshine gold over that time frame, you'll want to see this chart headed down.
What's interesting is that the spike to 126 in March 2020 (blue circle) looks a lot like a "blow-off top": a quick move up that gave back all its gains just as fast. If this were the chart of any other asset, I'd take it as a signal of a longer-term top. The ratio has been trying to break above the 80 to 100 resistance area since the year 1990 (yellow rectangle). While it did do that during the Covid crash, it was only a "false breakout". And today, the ratio is back at the bottom of the resistance area. 
Things get even more interesting in the next chart. You can see here that the ratio is making lower highs for the first time since 2010. And each time that's happened since 1990, there's been an eventual flush lower – where gold lost value to the No.2 precious metal. If history repeats, silver could outperform gold for a while.
Like the charts you see here? I create most of them using TradingView. If you're interested in drawing charts yourself, you can sign up for a free TradingView account using our affiliate link. If you later choose to upgrade to a paid plan, you'll receive up to $30 off as a bonus.
Apart from the technicals, what else could bring the gold to silver ratio down?
There's more silver in the earth's crust than gold. And it's generally easier to mine. That said, silver's position in the periodic table makes it much it better suited to industrial applications – meaning there could be more demand for it. 
Thanks to silver's superior electrical conductivity, you'll find it in all kinds of electric components – including electric cars and microchips. And because silver also conducts heat and reflects light so well, it does wonders for solar panels. Further down the road, you'll see more electric cars and solar panels as the world goes greener. You'll also see more powerful microchips to 1) power the data servers of our future AI overlords, and 2) mine bitcoin at ever-higher hash rates. That should all boost the demand for silver. 
So is silver a buy right now?
For patient investors who can stomach the short-term volatility, silver could be a decent long-term bet. The next chart shows the price of silver in US dollars, with strong price support from the $18 to $21 area (green rectangle) going back to 2010. So if the price pulls back to that region, it could be a good opportunity to get in. The 50-month moving average (blue line) is trending up too – acting as another big level of price support. You'll also notice the white trendline I've drawn from the high of 2011 to where the price is right now. It hasn't broken that ceiling yet, but if and when it finishes a month above it, that could also be a good entry point.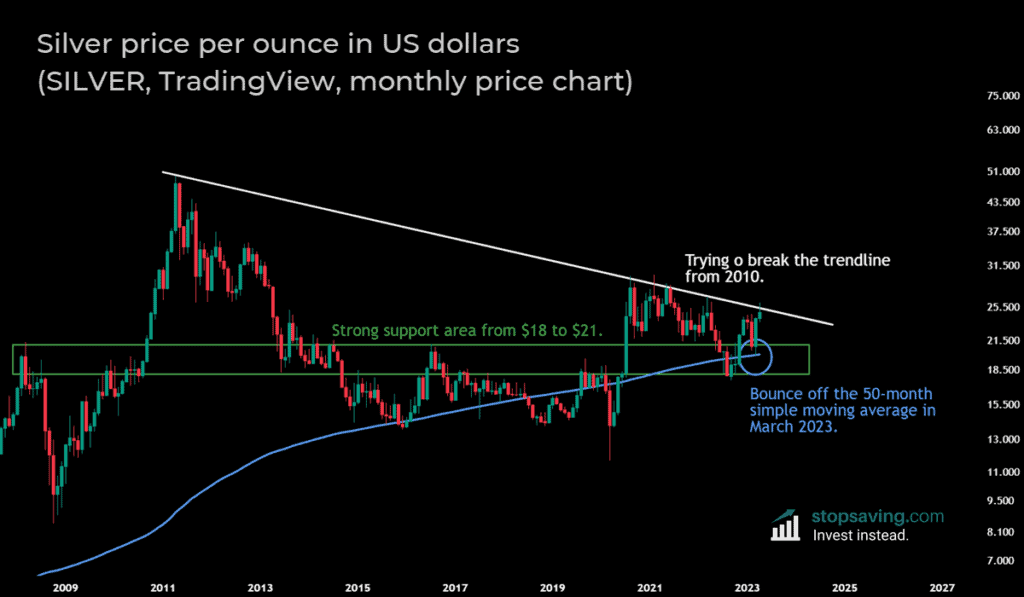 Otherwise, you could always stick with the tried and tested method of dollar-cost-averaging in each month. As with any volatile investment, buying in smaller chunks over time can help spread your risk.
How can you get exposure to silver?
If you're looking to get ETF exposure to silver, there are plenty of options available to track its price. US investors can look into the iShares Silver Trust (ticker: SLV, expense ratio: 0.50%) or Aberdeen Aberdeen Standard Physical Silver Shares ETF (SIVR, 0.30%). And UK investors across the pond could try the WisdomTree Physical Silver (PHAG, 0.49%) or Invesco Physical Silver ETC (SSLN, 0.20%).
But if you'd rather buy and store the physical metal in a vault, have a crack at BullionVault. You can buy gold there too.

Key points
The gold to silver ratio is the number of ounces of silver it would cost to buy one ounce of gold. The higher the ratio, the cheaper silver is to gold.

The ratio is currently at around 80. That's high by historical standards and suggests silver could be undervalued versus the yellow metal.

Silver is a key ingredient in growing industries like AI, electric cars, solar, and bitcoin mining.
Enjoyed this analysis and want more insights? Subscribe to our free newsletter for regular updates and valuable investment ideas!