Keeping It Simple: Ethereum Ascending Triangle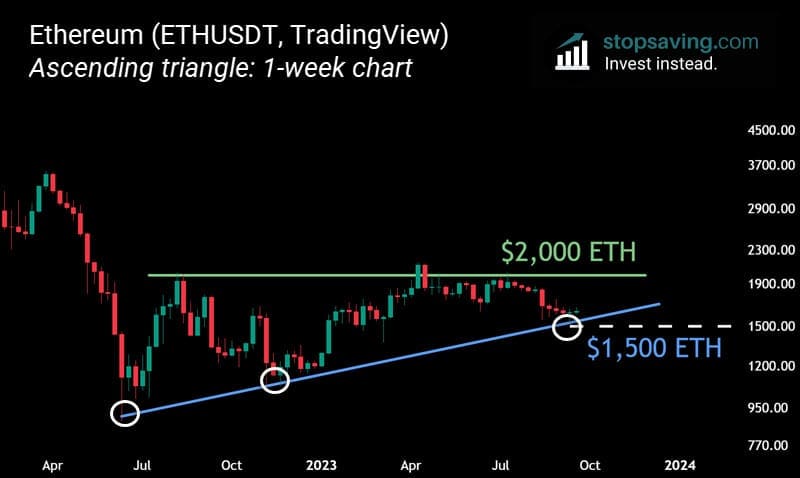 When it comes to technical analysis, there's a lot to be said about keeping things simple. And this Ethereum ascending triangle is about as simple as it gets for most crypto traders. It's a weekly chart – meaning each red or green bar represents one week of price movement. This way, the chart cuts out the short-term noise to focus on the bigger trade. 
To draw this ascending triangle, I've connected the "wick lows" (white circles) since June of 2022. As you can see, the lows have been ascending since then to give us the rising blue line of the triangle. The latest wick low happened last week, when the price tagged $1,530 per ether on Monday. Let's call it $1,500 to keep it safe.
The top of the triangle was a bit harder to draw, but the highs were mostly in the $2,000 region. So to stick with the theme of round numbers, I've drawn the top of the triangle (green line) at $2,000. 
So what's the trade here?
Ascending triangles are typically bullish patterns. In this example, Ethereum buyers have been pushing the price up to the $2,000 ceiling (green line). Sellers have then stepped in at that level to push the price back down – but with less strength each time (hence the rising blue line).
More often than not, the ceiling eventually breaks. And that would suggest a big move up for the No.2 crypto (in this case with a technical target of around $4,000). 
But let's not get too ahead of ourselves just yet. Ether's first got to clear $2,000 before that ascending triangle setup comes into play. So if it gets there, $2,000 might be a sensible price to take some chips off the table. 
As for risk management, the pattern would likely fall apart with a break below $1,500. So keep that in mind for contingency planning.