Bitcoin Will Have A Big Drop At Some Point. But At What Price Level?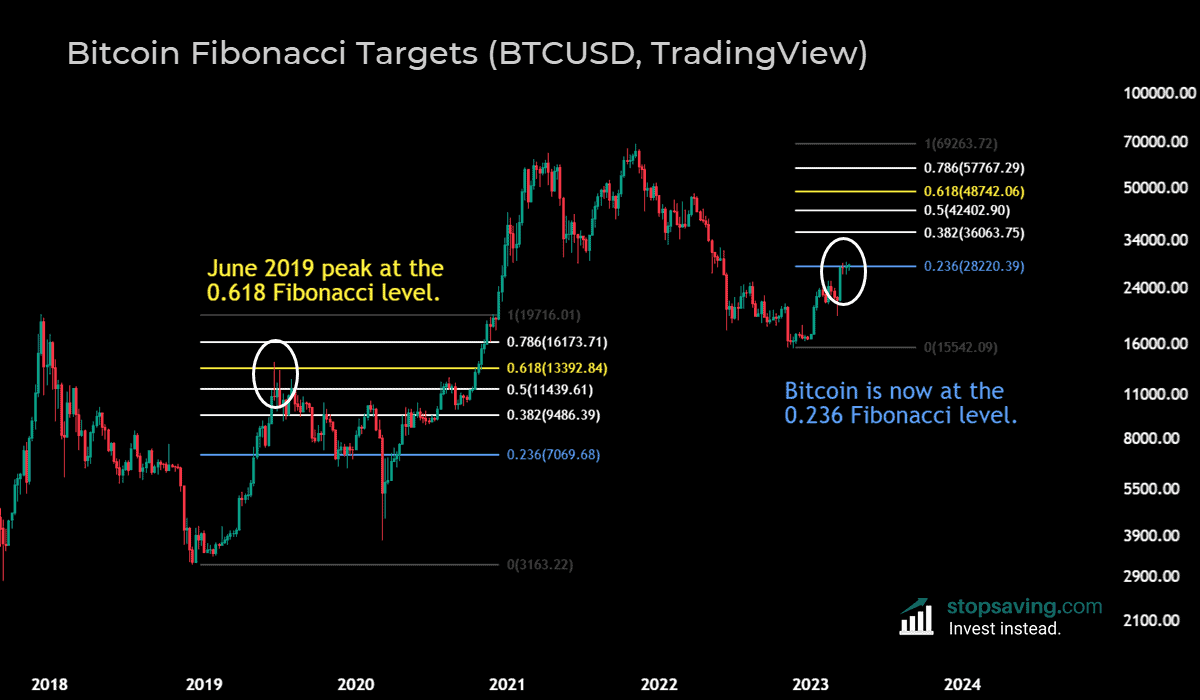 Bitcoin is on a rally of epic proportions. But at some point, it's going to pull back in a big way. The question is at what price level? This chart might offer some clues.
Pay attention to Bitcoin's Fibonacci levels.
Fibonacci retracements have a strange habit of playing out with bitcoin. And that's because a lot of traders use them for profit-taking areas. Take the 2019 rally: bitcoin ripped from a low of around $3,000 to a high of almost $14,000 in June. And just when everyone thought it would go higher, the 0.618 Fibonacci (yellow line) stopped it in its tracks. It's known as the "golden ratio", and when bitcoin hit it, the smart money took some chips off the table.  
Recall that bitcoin dropped from about $20,000 down to that $3,000 low over the 2018 bear market. So getting back to $14,000 meant it had retraced 61.8% of its losses – that's why it's called the 0.618 Fib retracement. And now, bitcoin is on the 0.236 Fib (blue line), meaning it's recovered 26.3% of its last bear market losses. 
Could history repeat itself here?
If things go as they did in 2019, bitcoin would tap out somewhere around $48,500 (0.618 Fib, yellow) before its next big drop. Or if they go as they did in the 2014 bear market, it'd be more like $35,000 (0.382 Fib). But first things first: bitcoin still needs to break through the 0.236 Fib (blue line). 
Sign up for our Crypto Compression weekly email
Understand crypto (and its market) with 1 email per week.