Why Cash Is King In Crypto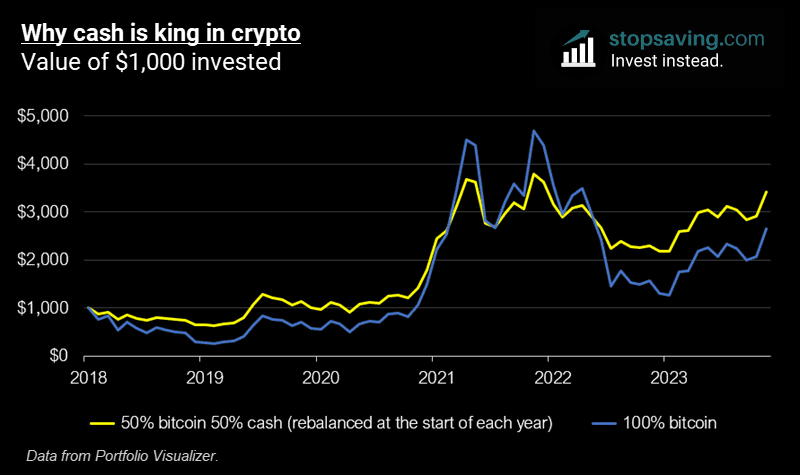 "Cash is king" is a popular saying in investing. The idea is that cash gives you the resources to buy cheap investments – which could pay off over time. And this chart shows why that might be true when investing in bitcoin.  
The chart compares the value of two $1,000 investments from the start of 2018 until now:
Yellow line: half in bitcoin and half in cash (rebalanced at the start of each year).
Blue line:

bitcoin only.
As you can see, the portfolio with half in cash grew more than just holding bitcoin. A $1,000 investment in this portfolio in January 2018 would be worth $3,425 by the end of last week. That works out to a compound annual growth rate (CAGR) of 23.13%. 
But if you'd put it all in bitcoin over that time, you'd only have $2,665 to your name – or a CAGR of 18.02%. 
Maybe cash is king in crypto, but only if you rebalance each year…
If it weren't for yearly rebalancing, the portfolio with half in cash would have a CAGR of just 11.34%. The bitcoin portion would've compounded over time, but the cash portion would've stood still. 
You see, the 50:50 portfolio would have started each year with half in bitcoin and half in cash. But by the end of each year, that split would be completely different. After a "good bitcoin year", you'd have more than half the portfolio in bitcoin. And after a "bad bitcoin year", you'd have less than half in bitcoin. 
By selling some bitcoin after good years, and buying some bitcoin after bad years, you'd get the portfolio back to 50% in each asset. So, you're effectively buying bitcoin low and it selling high. 
Not such a bad strategy with volatile investments.
Liked this post? Check out our free newsletter for more investing insights and resources.
Note: I used Portfolio Visualizer software and Excel to work out the numbers for this piece. The back-tested returns don't consider taxes or trading fees.