A Bitcoin Head And Shoulders Pattern Is Forming…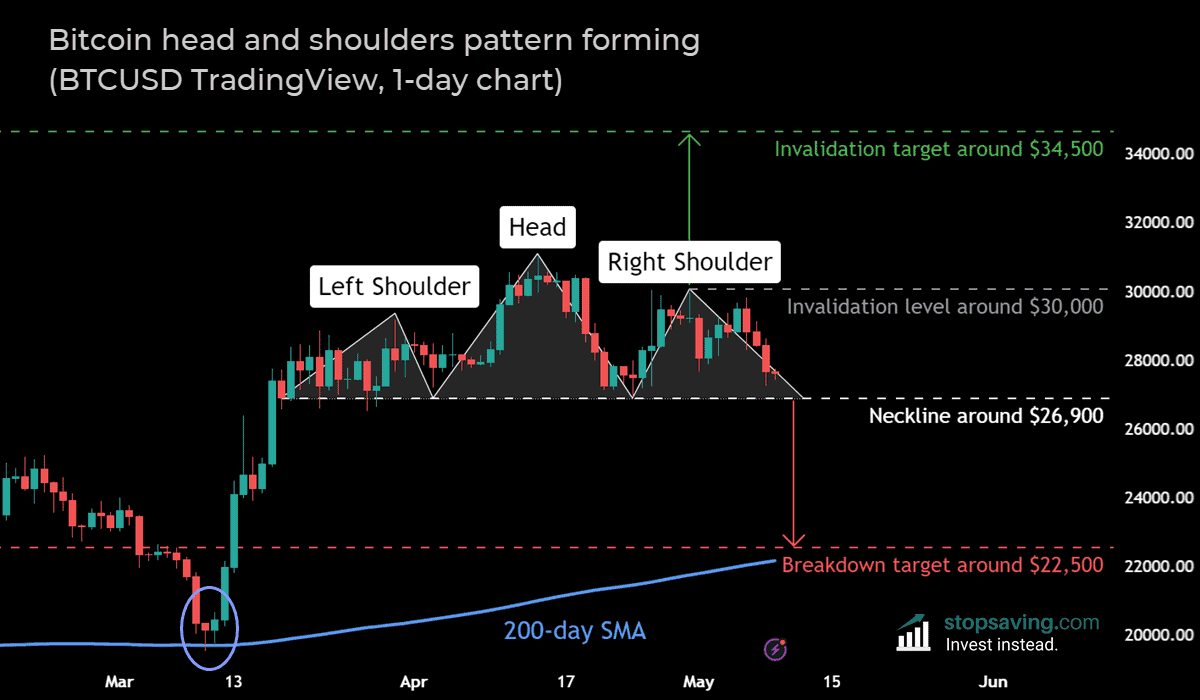 There's a bitcoin head and shoulders pattern forming. It's a bearish technical pattern, and you can see it brewing on this chart. It first shows the left shoulder, where bitcoin peaked in late April at around $29,300. It then shows the head in the middle, where bitcoin topped at $31,000 in mid-April. And finally, there's the right shoulder, where the price got to about $30,000 in late April before heading down to where it is now.
What does this pattern mean for bitcoin?
No doubt many traders will be watching this pattern to forecast bitcoin's next big move. The bears will be looking for a daily close below the neckline in white (at around $26,900). As the theory goes, that would bring the price down to the red line at around $22,500. That drop would be the same distance from the top of the head to the neckline. Incidentally, the downside target is also near the blue 200-day simple moving average (SMA) – the same line bitcoin bounced off in early March (blue circle).
But don't get too bearish just yet. The pattern needs to be validated before its downside target comes into play. In this case, validation would be a daily close below the neckline – meaning the price needs to end the trading day below that level. A quick spike below it during the day, for example, doesn't technically validate the pattern.
On the flip side, the pattern would be invalidated with a daily close above the right shoulder in grey. Let's call that $30,000 to be conservative, but I think $29,500 would probably do it for me. At that point, it's the same move up instead of down. And you could see bitcoin rocket to the green mid-$34,000s (according to head and shoulders theory).
If you liked this bitcoin head and shoulders pattern analysis, you might enjoy my free Weekly Investor Report. You can get it here.