The Altcoin Market Might Not Be In A Downtrend After All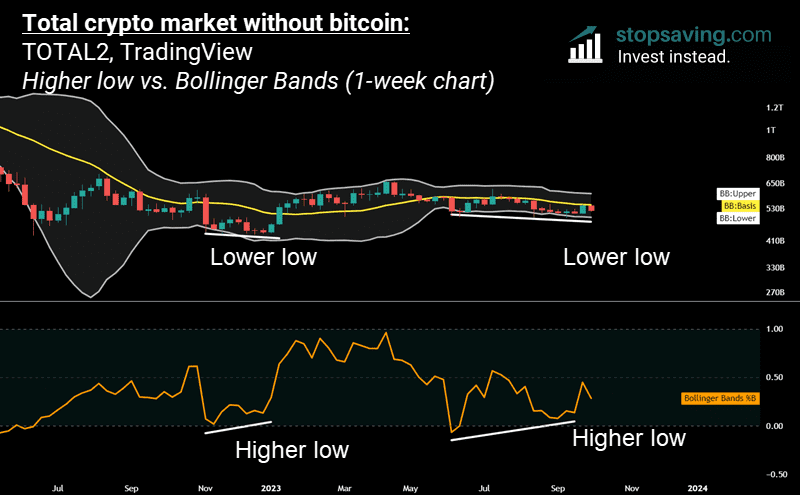 The red and green bars in this chart show the week-to-week movement of the TOTAL2 Index. TOTAL2 is a general proxy for the performance of the altcoin market – i.e. crypto excluding bitcoin. After rallying 50% in the first quarter of this year, the index has slowly drifted down. It's been in a technical downtrend since April. 
You'll also notice how TOTAL2 made a lower low in September than it did in June. A lower low is typically bearish. It suggests sellers are stronger than buyers – because they pushed the price down to lower levels. 
But things might not be as bad as they seem for altcoins right now. If you look at the Bollinger Bands %B Indicator (orange line), you'll see that it recently made a higher low. In other words, TOTAL2's recent low was higher relative to its Bollinger Band positioning. 
Bollinger Bands measure the volatility of an investment around the 20-period simple moving average (SMA, yellow line). The Bollinger Band %B Indicator measures where the price is relative to that 20-SMA. So here, TOTAL2's September low was higher than its June low – in terms of its distance from the 20-week SMA.
What's the takeaway here?
Altcoins are still in a technical downtrend. But they've now printed a higher low relative to the Bollinger Bands. The same thing happened in January of this year and the altcoin market rallied after that. But keep in mind that TOTAL2 is still below the 20-week SMA right now. So, altcoins aren't out of the woods just yet…
As usual, none of this is investment advice. But if you're looking for more chart updates like this, check out my free crypto newsletter.